Check out Narendra Modi's reply to Virat's fitness challenge:
A few days back Virat Kohli challenged Prime Minister Narendra Modi to take up a fitness challenge as a part of #HumFitTohIndiaFit campaign. PM Modi accepted the challenge and claimed to share the video soon. Now he has posted a video of him doing morning exercise thus completing the challenge.
Challenge accepted, Virat! I will be sharing my own #FitnessChallenge video soon. @imVkohli #HumFitTohIndiaFit https://t.co/qdc1JabCYb

— Narendra Modi (@narendramodi) May 24, 2018
In the video Modi can be seen exercising in the garden:
Here are moments from my morning exercises. Apart from Yoga, I walk on a track inspired by the Panchtatvas or 5 elements of nature – Prithvi, Jal, Agni, Vayu, Aakash. This is extremely refreshing and rejuvenating. I also practice
breathing exercises. #HumFitTohIndiaFit pic.twitter.com/km3345GuV2

— Narendra Modi (@narendramodi) June 13, 2018
PM Modi shared the video in the morning and it shows him walking across obstacles, doing breathing exercises and some Yoga asanas. PM Narendra Modi's daily exercise routine includes Yoga along with walking on a track enthused by 5 elements of nature – Prithvi, Jal, Agni, Vayu, Aakash. According to him, this is extremely refreshing and beneficial.
In another tweet, Modi has nominated newly appointed Karnataka Chief Minister HD Kumaraswamy, table tennis star Manika Batra and entire fraternity of brave IPS officers, especially those above 40 to take up the fitness challenge and post their videos.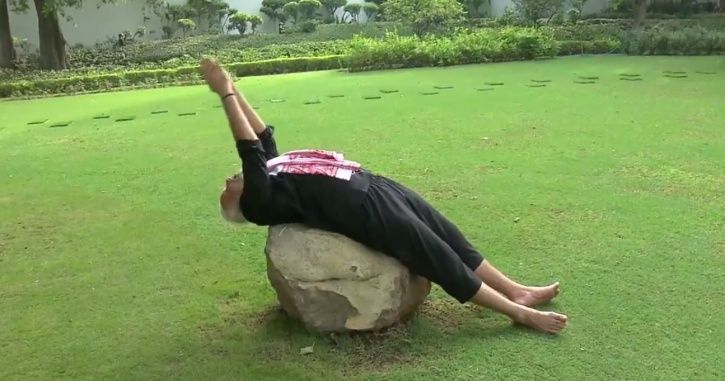 However, Karnataka's Chief Minister HD Kumaraswamy rejected PM Modi's challenge. He said he is more concerned about the development of his state than his physical fitness. In the tweet he thanked PM Modi to nominate him but also rejects the challenge:
Dear @narendramodi ji
I am honoured& thankU very much for d concern about my health
I believe physical fitness is imptnt for all&support d cause. Yoga-treadmill r part of my daily workout regime.
Yet, I am more concerned about devlpment fitness of my state&seek ur support for it.

— CM of Karnataka (@CMofKarnataka) June 13, 2018
This fitness challenge was started by Indian Information and broadcasting minister Rajyavardhan Singh Rathore. He posted a video of his doing push-ups as a part of #HumFitTohIndiaFit campaign. The minister further urged Indian to be a part of this campaign and nominated other celebrities to take up this challenge.