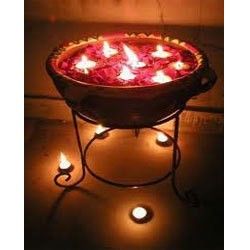 Navratri marks the beginning of the festive season. Light, music, decoration, shopping and melas add to the excitement. Just like you the house too needs a fresh and dazzling look during festivals. Aaw tells you few easy and simple ways to decorate your house this festive season. The brightness, change and new look of the house will surely set the tone for the upcoming festivities.
 Flowers: Flowers bring positivity and adds to the overall look of the house. Place fresh flowers all around the house in pretty vases. Short on time and do not want to change flowers daily buy good quality artificial ones.
Candles: Lights (in all styles) are a must for festival décor. Many varieties are available in the market. Place candles in candle holders or lanterns. Bring in the festive spirit by investing in an earthen urn and adding floated, perfumed candles. Alternately you can place them in a thali or a bowl of water and flower petals. Traditional diyas are also a good bet.
Hangings: Commonly known as Bandhanwars. They are a colourful, traditional symbol of happiness and peace; hang them on door sides or above the main door of the house. You can make them at home too.
 New tablecloth: Instead of a readily available tablecloth opt for a bright coloured dress material to give your house a new look. You can also use an old saree or dupatta, stiched atop an old bedsheet.
Paint and polish:  Get the brass and silver display pieces polished to give them a new look. Also cover grimy spots on the walls by applying a fresh coat of paint or a wall paper.
Paintings:  Take out all the paintings from the store room and hang them all around the house. But make sure you don't over do it. If you don't have new paintings simply change the place of the old ones for a refreshing change in the house.
Bed sheets and cushions: Its festive season take out the new bedsheets and cushion covers. Replace all old bedsheets with bright and new ones. For the cushions, you can buy some new ones or get them switched from an old sari or dress material.