"A man is judged by his shoes, a woman by the state of the bathroom!'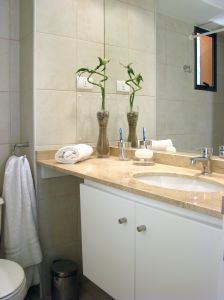 Bathrooms are one of the most important areas of the house, after all the day starts and ends here. People pay attention on decorating their living rooms and bedrooms but bathroom is often forgotten.
Decorating and maintaining a bathroom is not a big task with some simple steps one can design the perfect bathroom.
Location: Location of the bathroom is essential. Problem areas are opposite the kitchen, adjacent and opposite to the front door and centre of the house. If possible locate the bathroom at the back of the house.
Utilise the space: Bathroom is a small part of your house utilising the every little space is essential. Choose bathtub and other sanitary fittings in accordance to the area. Avoid bathtub in small bathrooms to make it look spacious.  Place a curtain to divide the bathroom into two sections.
Aromatherapy: Place some aroma oil and candles to make your bathroom smell good.
Invest in toilet fittings: There are unlimited choices and designs so invest wisely in stylish bathroom accessories and fittings. Avoid using low quality mirrors.
Decorate it: Use your creativity to enhance its looks. Try decorating it with dry flowers, painting and beautiful ceramic pots. Avoid keeping plants in the bathroom.
Cleanliness: Cleanliness is quintessential. Clean the surfaces and glasses regularly. Remove the clutter like as old magazines, medicines and expired cosmetic products on regular intervals.  Place a mat at the bathroom door to keep it dry and tidy.
Repair: If something is broken or needs servicing; get it fixed asap to avoid inconvenience.
Lighting: Make lighting the priority. It's not about more bulbs and tubes but proper lighting for everyday grooming task. Use bright lights. Try for a window for natural light.
The right flooring: Bathrooms should always have non-slippery floors.
Linen: Towels must compliment a bathroom and reflect your taste.  Always keep in mind – the texture, colour and design while choosing bath linens. You can also go for organic towels if the pocket allows.
Hope these tips help you get the 'perfect' bathroom