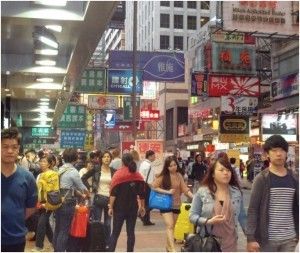 Located in the heart of Asia, Hong Kong is a cosmopolitan city. The year 2012 marked the 15th anniversary of the establishment in 1997. Within 15 years the city has made progress by leaps and bounds in all fronts. It is now a popular tourist destination. As the wedding and honeymoon season is approaching, we at Aaw bring you the in and out about the city to help you make up your mind.
Population:  The place has a heterogeneous population consisting of groups from India, Malaysia, Indonesia, US, Thailand, Canada , Pakistan , Nepal and Australia too. But the major portion consists of Chinese.
Shopping: Hong Kong is a delight for shoppers. All international brands are available. Besides big brands many local shops too offer great style and designs. The markets are flooded with jewellery, watches and cosmetic shops. The popular flea markets are ladies and temple street markets which offers great bargains and deals. You can pick up souvenirs and other inexpensive stuff including first copy of watches, luggage, hand bags, footwear and much more.
Public transport: The public transport including taxi, MTR and bus services are well developed and connected. About 90 per cent passenger trips are made on public transport. The ferry connecting central and Tsim Sha Tsui is cheap and pleasant way to commute. The bridges connecting different parts are both above and under the water.
Food: The main cuisine is Chinese and unlimited sea food options are available. Besides Chinese Italian, Indian and vegetarian food is also available at restaurants.  Fast food chains like Mc Donalds and KFC are found in every corner. But there is no vegetable burger available at Mc Café. You can also find some Indian restaurants with Indian waiters talking in Hindi and offering yummy Indian food including yellow dal. The non-vegetarians can go for unlimited options like prawns, shrimps, fish, bird nest, beef, pork and much more.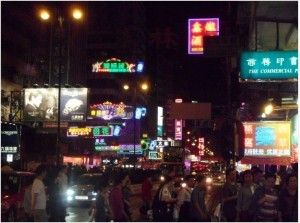 Style: People here are very stylish, slim and fair (sigh!). The girls are beautiful and carry themselves very well. Denims are not for them, during winters they pair black stockings with skirts, dresses and hot pants.  Maximum girls wear fake eyelashes. You will be amazed to see different yet weird hair styles of men.
Attractions:  The major tourist attraction is Disneyland. Besides it Ocean park, Victoria peak, Madame Tussauds, Giant Buddha, Hong Kong wet land park, Harbour cruise are popular tourist destinations.
Nightlife: The city has a vibrant nightlife and offers ample evening out options. The markets are also open till late.
Language:  Chinese and English are the main languages but locals can only speak Chinese. Even the English accent is little difficult to understand.
Time difference: It is two and hours ahead of India.