Luggage packing hacks that will change your life:
We all love vacations but with travel comes the ever-daunting task of packing. Packing is an art as you have to adjust the maximum number of things in a limited space. Above that we also don't want even a single wrinkle on our clothes which makes packing a tedious task, While packing my bags for a 20-day long USA vacation, I figured out many packing hacks which helped me a lot. Read on to learn those simple hacks which you too can use during your next vacation
Roll, don't fold clothes: Rolling your clothing rather than folding is one of the best ways to maximize luggage space. Also it helps prevent wrinkles and creasing. Roll the delicate dresses between two sheets of white tissue paper while others you can roll normally. Fold your lingerie rather than keeping it directly in the bag. Make sure to pack your light colored clothes inside out.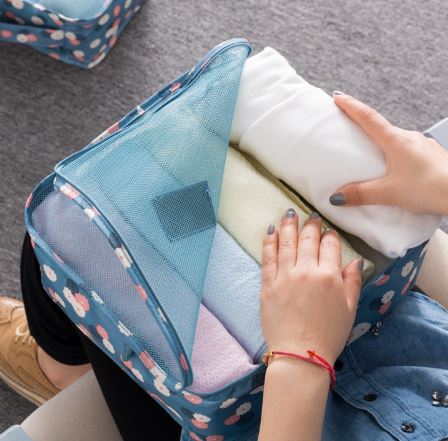 Pack the heaviest items closest to the wheels: Always remember to keep all the heavy items stored on the wheels so weight is distributed evenly.
Makeup: To protect powder makeup products from breaking while traveling stick a cotton pad or cotton ball inside the compact before putting it in your makeup bag. Also when packing for a weekend trip instead of packing big, bulky makeup bottles pour a little bit of the product into a clean contact case or any other small bottle for easy travel.
Organise: If you don't have a luggage organizer than use pouches, shoe bags, shower caps, disposable boxes, zip pouches, pill boxes, etc for keeping shoes, jewelry makeup, and other things. Try picking up multi-purpose makeup products and small toiletry bottles. You can even use your old glasses cover to keep makeup brushes or other small things.
Shoes: Keep your shoes in a shoe bag and stuff socks in the shoes themselves. Also if you are carrying glass bottles keep them by slipping them into socks. While returning back keep the dirty soles of your shoes away from your clothes by keeping them inside a shower cap in case you don't have a shoe bag. You can also pick up the laundry bag from the hotel room to keep dirty clothes or shoes.
Clothes: Always pack two different tops for every bottom because you can easily repeat types of denim but not tops.
Other things to remember: 
If traveling by air always check the weight of the bag to avoid inconvenience at the airport.
Always check the quality of the luggage bag properly before buying.
Always lock your bags.
Always carry an extra bag in your bag.
What are the other successful packing tips you use?