Check out the list of things you should know about Metro travel in this pandemic: 
As the second lockdown has eased, the Delhi Metro Rail Corporation (DMRC) has also started it's services but with many guidelines. While the service resumed this time in a "graded manner" and standard operating procedures, much like last year. While it is a relief for commuters in the city, traveling in the metro is still pretty strict as The DMRC has prepared SOPs for Metro operations, which will be modified as per the HUA ministry's guidelines.
Here are a few things that you must know: 
DMRC has planned to stop the token system to bring down the infection risk. To ensure contactless and cashless travel in the metro only smart cards will be used. DMRC recently launched a smart card with an automatic top-up facility, commuters can use it by downloading the app. 
Social distancing is the key 
Commuters will be asked to sit on alternate seats. DMRC has put marks on seats that will make sure that social distancing is followed in trains. Standing will be allowed but people have to maintain a six-foot gap. 
When you reach the station a CISF personnel will check their temperature using thermal scanners. Only those with normal temperature and face mask will be allowed entry.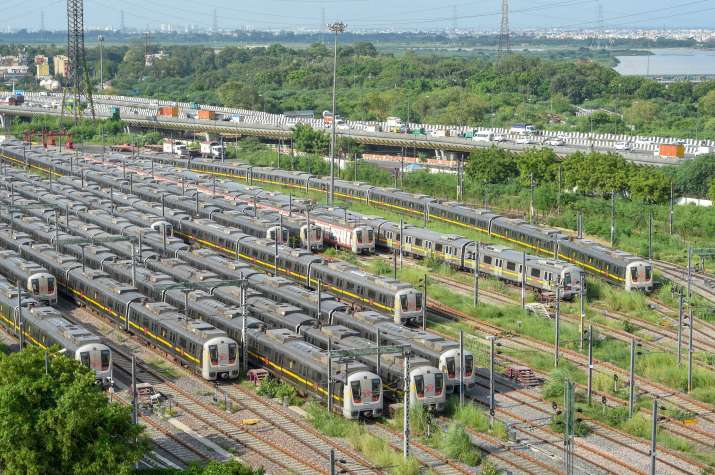 Only three people will be allowed in the lift at one time and commuters will have to maintain a one-step gap on escalators. 
Limited entry gates to open 
To ensure there is no crowding at the stations, DMRC has decided to limit the entry and exit points at every station. There are some stations such as Rajiv Chowk, Kashmere Gate, Central Secretariat, etc .which have more than two entry and exit points. DMRC is planning to open "a specified number of gates" to manage the crowd at stations.
Wearing masks will be mandatory inside the stations and train. Hand sanitizers will be placed on every station and trains will also be cleaned after regular intervals. 
People who will not wear masks or sitting on the vacant seats or found spitting on trains or platforms will have to pay a fine. 
Other guidelines for unlock 4.0 are as follows: 
the center has allowed up to 50 percent of teaching and non-teaching staff to schools outside containment zones from September 21.
states will no longer be permitted to impose lockdowns outside containment zones.
Cinema halls, swimming pools, and other recreational spaces will remain closed.
No restrictions will be imposed on the inter-state and intra-state movement of people and goods.
Open-air theatres will be allowed to reopen from September 21, 2020.
International air travel, other than what is permitted by MHA, remains suspended.