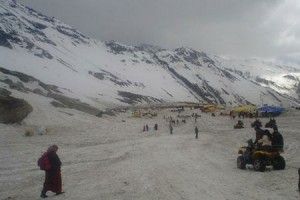 Rohtang Pass is a beautiful place with pristine white snow all around. It is is visited by lakhs of tourist every year all for a superb snow-y experience. Located 51 kms from Manali at a height of 13,051ft, it's a must visit. The pass is open from May to November and is known to be dangerous because of unpredictable snowstorms.
Besides spectacular snow covered mountains, there are lots of interesting and entertaining activities like snow bike, skiing, tube riding, sledge riding and much more. These activities enhance your experience. So if you are planning to visit this place just keep in mind few points to make your journey safe and fantastic:
1)      Always carry a first-aid kit with basic medicines for headache, cold, nausea and an anti-allergic. Along with prescribed medicines (if any).
2)      Drink water to keep yourself hydrated. in cold regions you might not feel thirsty but the body does loose water,
3)      Always carry an extra pair of clothes, socks and shoes.
4)      Hire local cabs as they have permissions to go till Rohtang.
5)      Rent warm suits, caps and skiing dresses beforehand. All shops offer the same dresses so you can pick from any shop. Though the driver will force to buy from a particular shop to earn a commission. Always bargain.
6)    Always carry food for toddlers as you will hardly find anything suitable for the little one.
7)      Try to start the journey early. Starting at 4 am in the morning may sound weird but you will avoid traffic jams.
8)      Never drink alcohol while traveling in the hills.
9)      Click beautiful pictures on the way.
10)  Always carry a sanitizer along because toilets are big problem here.
11)  Be extra cautions with the kids because the slippery ice can be risky.