Gaurav Gupta unveiled his latest collection at the Vogue wedding show and it is inspired from Game of Thrones and soft English pastels
At the opulent Vogue wedding show, where designers showcase their best and women go gaga over them, we had a field day. We met ace designers, understood the upcoming bridal trends and attended the fiesta of Indian couture at the Vogue wedding show. So we caught up with the creator of saree gowns Gaurav Gupta and he discussed fashion, bridal trends and a lot more with us: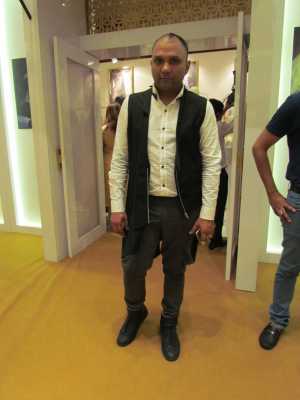 Please tell us about your latest bridal look for the upcoming wedding season?
Our bridal looks are all these amazing, fantastical ball gowns much like we at Gaurav Gupta do. We also have multi layered lehngas which are almost like gown lehngas or saree lehngas and saree gowns. All kinds of many different newer types of Indian couture.

As the brains behind the saree lenghas and gowns. How did you actually end up designing something like a saree lehnga, which right now every bride wants?
Honestly, it just came naturally to me. I get bored very easily. So for me everybody else was just doing the same thing so I had to do something different. I just think differently.
Do you think it has something to do with the fact that practicality of wearing a saree is difficult for most modern Indian women?
Sort of, it's just that I wanted to make it younger, more practical, and slightly sexier and at the same time very flattering. So it's all of those facts. It just that I was a bit more curious and wanted to make something a little bit more different than everybody else. Otherwise everyone makes the same lehnga, the same borders, and the same buttas. So it's just nice to have a variety. I wanted to add to this to the variety available for women.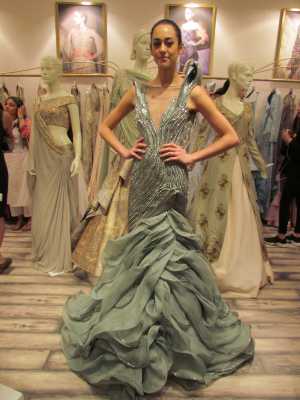 What are the colors you think will be in for this season for bridal wear?

I don't know what will be in, because I don't look for trends. But the kinds of colors we have done are lot of like these beautiful vintage English colors, like English blue or an English green, an apple green, a province lavender. We have done a lot of these beautiful pastel colors, which are amazing and on the other hand we have like these scarlet reds and ink blues as well.
What was your inspiration for your current collection?

The current collection is very vintage as I said earlier, and there is a lot of pearl embroidery as well.  The inspiration came from a slight bit of history of costumes, like Game of Thrones, and then on the other side it was architectural landscapes. On the third side there were all of these forest and vintage elements to it. So it's a multiple level of inspirations. That's why the collection is very fresh and very new and at the same time very wearable.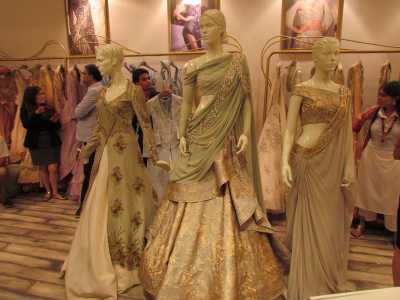 Stay tuned as we cover more designers from the Vogue wedding show.