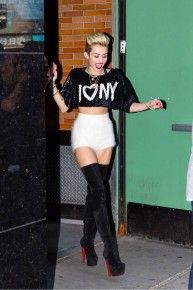 Miley Cyrus was looking for friends who could relate to her and she has stuck an unlikely friendship with Britney Spears. The two have bonded over their childhood memories and pressure they faced as Disney stars.
Both Britney and Miley admitted that growing up in the spotlight has been difficult. Both were childhood stars and started their career on the 'Mickey Mouse Club'.
Miley also said that there were days when she doesn't want to be photographed but cant do much about it. Miley is under intense media scrutiny as her engagement to Liam Hemsworth, their relationship, fights  etc are gossip fodder. She can relate to Britney as Britney has been married twice and ended her engagement to Jason Trawick earlier this year.