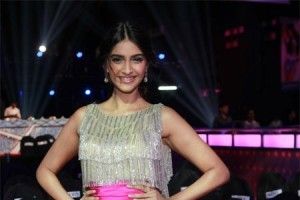 Bollywood's favourite fashionista Sonam Kapoor is the latest target of KRK's nasty and notorious tweets. On her birthday today, when others from the industry wished her, KRK tweeted, "Till today I was thinking that @sonamakapoor is 20/21 years old but she is 28 means after 2 years buddhi (old) yani finish over. Mubarak ho ji."(sic)". KRK, really! Where are your manners?
He also added, "I m really sad tat @sonamakapoor is not no1. I really love her n her tattoo. I want her to be no.1 of Bollywood if even for year only."(sic) What a wish KRK! Sonams infamous tattoo on her hip always finds vague admirers!  This tweeting trail didn't end there. He further added,"By God @sonamakapoor ji ke tattoo ki jagah Kamaal hai. Insaan ek baar dekhle tho humesha ke liye dil baag baag ho jaye.. Wao."
But neither can Sonam read nor replied to KRK's jabs because she blocked him!"Ppl hold on. @sonamakapoor can't block me twice. She has already blocked me," said the wannabe self declared KRK of Bollywood. KRK we request you to start behaving and maybe a few etiquette lessons might not be a bad idea!
While others wished Sonam a happy life ahead. Her twitter wall is flooded with birthday wishes from her co-stars, friends and others from the industry. The sexy and fashionable diva turns 27 today.