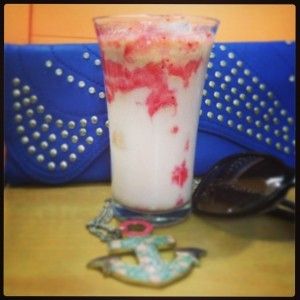 Summers are here and so is the season for chilled and creamy milkshakes. A cold, yummy and flavoursome milkshake can be very refreshing (though a tad high on calories). But if you keep the fibre of the fruit a milkshake can be a great way to up your vitamin levels. Here is a slight twist to our childhood favourite shakes:
You can also make them into a smoothie. (Recipe in the end)
Strawberry and mint shake
Serves 4
Ingredients
Fresh Strawberries:  12 to 14
Mint leaves: A handful
Chilled milk: 4 cups
Vanilla ice cream: 8 scoops or 4 scoop ice cream and lots of ice
Sugar: As per taste
Whipped cream for garnishing
Method:
Wash the strawberries, remove the stem and chop them. Wash and dry the mint leaves and tear them roughly.
Add strawberries, mint and 2 teaspoons of milk, sugar and blend them.
Once you see a thick paste has formed add ice cream (plus ice) in to the jar and blend it again.
Now add the remaining milk and blend again.
Pour it into a tall glass and put the whipped cream in an icing bag and drop a dollop on the top of milk shake in each glass.
You can also garnish it with fresh strawberry by putting a small slit at the bottom of the strawberry and slide them onto the rim of each glass.
Note: If fresh strawberries are not available, strawberry essence can be used.
Banana and peanut butter shake
Serves: 4
Ingredients
Banana: 4
Peanut butter: 2 spoons (at room temperature)
Chilled Milk: 4 cups
Vanilla ice cream: 4 scoops
Sugar: 3 teaspoon
Chopped almonds: 4
Method:
Peel the bananas. In a blender combine peanut butter, banana and sugar. Blend them.
Add milk and blend it again.
Pour the banana shake into glasses and add one scoop of ice cream in each glass.
Garnish with chopped almonds and some peanut butter.
Chikoo and pistachio Shake
Serves: 4
Ingredients
Chikoo: 6
Pistachio: handful (according to how nutty you want the shake to be)
Sugar: 2 teaspoon (optional)
Ice crushed: 5 cubes
Milk: 3cups
Peel pistachios and grind them into a fine powder. Set aside.
Peel, de-seed and chop the Chikoo. In a blender add 2 spoons milk, chikoo and sugar blend well till paste is formed.
Add remaining milk, pistachios and ice. Blend. The shake is ready to serve.
For Smoothie:
Eliminate the milk and ice cream. And use lots of ice and some yogurt, for a healthy low cal option!