Chef Apoorv Bhatt helps us decode healthy recipes
Now that winters are setting in and we all wish to indulge but the reason to diet for New Years is high, we got some awesome recipes for a healthier you. The talented, Chef Apoorv Bhatt, from Bergguruen Hotels, brings to you 3 mouthwatering yet healthy recipes. Chef Apoorv has over 16 years of experience, he has been associated with big brands like The Lalit, The Spice tailor and Carlson Taj and decided to share some of his award winning recipes with us:
Multigrain Thali peeth
This recipe is toned down on spices to give more rustic flavour of different grains and subtle flavour of cucumber. This is a home recipe of my mother which I find much better than the recipes popular in traditional homes
Serves: 3-4
Ingredients 
Plain flour-one and a half cup
Millet flour(bajra)-1/2 cup
Jowar flour (rye flour)-1/2 cup
Cucumber grated- 300 gms(do not squeeze water)
Curd – 50 gms
Flax seeds-2 tblsp
Turmeric-1/4 tbsp
Sunflower seeds- 2 tblsp
Chopped coriander- 20 gms
Chopped green chillies- 10 gms
Asafoetida powder- pinch
Cumin (roasted) – 5 gms
Baking soda- ¼ tblsp
Grated ginger- 10gms
Oil – 30 ml
Salt- 15 gms
  Method:
Mix the flour together with baking soda, flax seeds, sunflower seeds, turmeric, coriander, green chillies, salt, asafoetida, cumin, grated ginger and salt.
Mix curd with cucumber. The water in cucumber will help bind the dough.
Make a pit in the centre of the flour mix, add the curd and cucumber mixture slowly. Incorporate and knead with gentle motions till the all the mixture is incorporated and the consistency is little runny.
With a little oil on the palm gently place the dough aside and let it rest for 15 minutes.
Heat pan on a low flame throughout the cooking, add little oil.
Make a portion of 30 gms for each thali peeth.. flatten each between your palms gently and try to keep the dough together. Do not worry of shapes.
Cook the thali peeth on slow flame,basting with oil regularly till both the side are well cooked.
Serve it with hung curd raita, coriander chutney or Maharashtrian garlic chutney.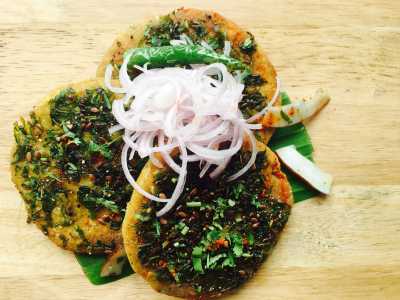 Diabetic breakfast smoothie
Serves: 3-4
Preparation time: 15 mins
Ingredients:
2 cup oats (ready to cook)
2 oranges (peeled and deseeded)
1 banana (ripe)
5 cups skimmed milk
Flax seeds-25 gms
Walnut deshelled-1/4 cups
½ tbsp coffee powder
Honey -1/2 tbsp
Mint leaves- 15 gms
Method:
Soak the oats in milk for 10 minutes.
Add orange, banana, walnuts,flax seeds, mint leaves ,coffee powder and honey . Leave some mint leaves for garnish.
Blend all in a food processor till smooth. Do not strain.
Serve chilled.
This is a complete breakfast with all mostly all essentials present. Can add spinach to scale up iron and vitamin intake.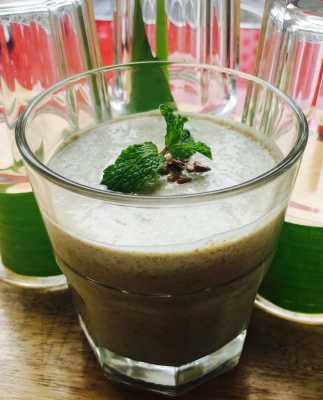 Oats & flax Idlis
Serves: 3-4
Preparation time: 4hours for soaking, 12 hours for fermentation and 15 mins of cooking.
Oats (ready to cook) – 1 cup
Flax seeds: 25 gms
Cooked rice (optional) – ½ cup par boiled Rice – 1 cup
urad dal – 1/2 cup
Fenugreek seeds – 1 tsp
Salt – 2 tsp
Oil – 2 tbsp
Optional:
Spinach wash & chopped: 50 gms
Ginger (chopped) – 10 gms
Soak dal and par boiled rice (with fenugreek seeds) in a separate container for 4 hrs.
Grind the urad dal and rice (with cooked rice) separately. Making sure the paste is air light and fluffy.Mix together.
Soak oats for 10 minutes, grind with half of the flax seeds and mix with the batter.
Before making the idlis, add salt to the batter, grease the idly tray with little oil.
Pour the batter on the mould, sprinkle remaining flax seeds.
Steam for 10 mins.
Serve with gun powder or a light sambhar. (Avoid coconut chuney as it is high in fats).
Can add chopped spinach or ginger for variation.