3 awesome ways to make Bhaang this holi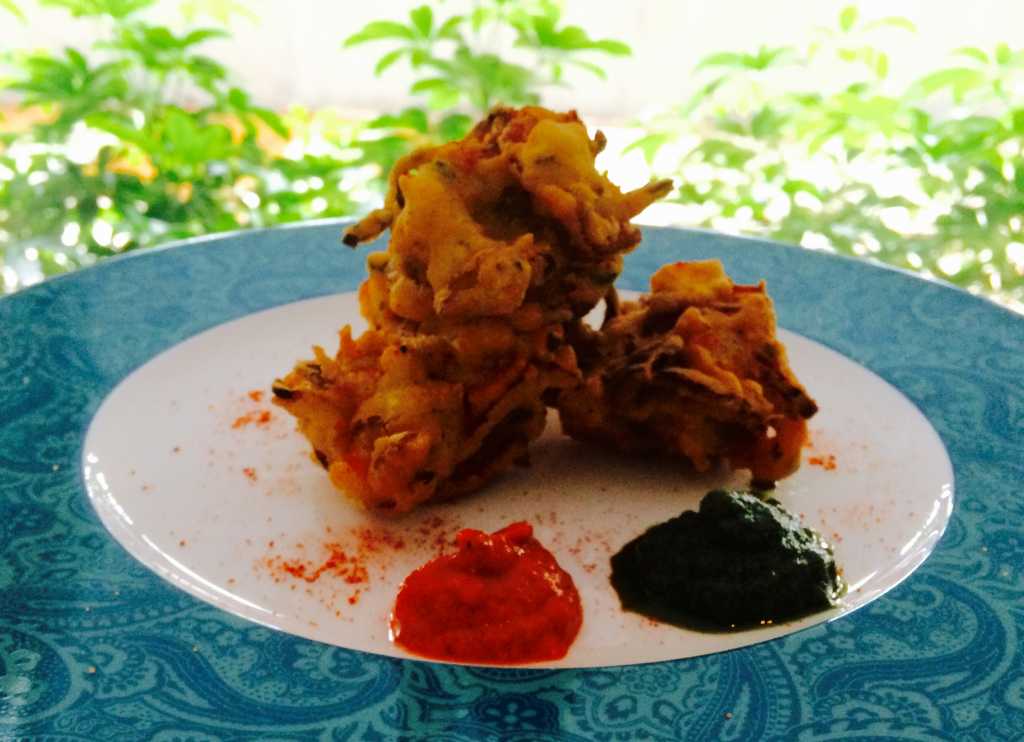 Bhang or cannabis leaves are often used on holi to get high. While having cannabis you should know that controlling your senses is not going to happen (Read More). Also be vary of taking drinks, food from strangers. Had in small quantity bhang actually helps clear your digestive track. So we got the talented chefs at The Leela Ambience Convention Hotel, Delhi to make us some bhang recipes albeit with minuscule bhang. You can make these without it too.
BHANG KE PAKODAS
INGREDIENTS QUANTITY
Bhang leaves 2 tbsp
Besan 1½ cup
Metha soda ¼ tsp
Poatoes medium, chopped 1 nos
Onion medium, sliced 1 nos
Green chillies, chopped 1 nos
Ginger , chopped ½ tsp
Ajwain ¼ tsp
Black salt to taste
Cooking salt to taste
Turmeric powder ½ tsp
Kuttimirch powder ½ tsp
Coriander seed, crushed 1 tsp
Oil for frying
GARNISH
Chat masala
METHOD
• Pick, wash and drain the bhang leaves.
• Make a thick batter of besan, salt and metha soda.
• Now mix all the ingredients into batter and mix thoroughly and keep aside for ½ hour.
• Heat oil in a heavy bottom pan.
• Fry the pakodas till golden brown colour.
• Sprinkle chat masala and served hot.
BHANG KI BADAMI PAK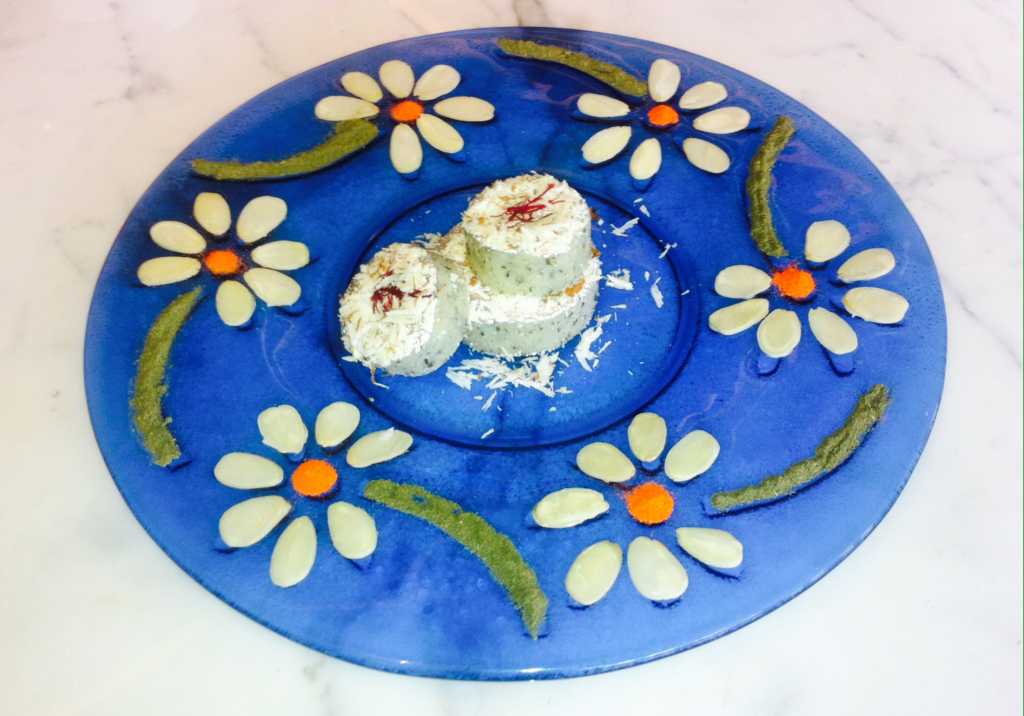 INGREDIENTS QUANTITY
Almond 500 gm
Khoya 500gm
Bhang leaves 50 gm
Desi ghee 150 gm
Rose water 2 cups
Cardamoms powder 1 tsp
Sugar 500 gm
Nutmeg, grated 1
GARNISH
Almond seed, slice ½ tsp
Saffron (soaked in milk) few stripes
Sliver leaf few leaf
METHOD :-
PREPARATION
Sugar syrup
Melt the sugar in rose water till it attains a light syrupy consistency.
Almond
Blanch, fry and grind the almonds.
Bhang
Pick,wash and drain the bhang leaves. Take a pan and fry bhang leaves and drain all the excess oil.
COOKING
• Heat prepared syrup with half of the ghee and cook for 2 minutes.
• Add mawa and keep stirring. Add grind almond to the mawa mixture along with the remaining ghee. Keep on a low fire and keep stirring.
• When ready to set remove off fire, mix in the fried bhang leaves, powdered cardamoms and nutmeg powder. Spread on a clean board or baking tray and cut into roundels.
• Take a dessert plate; put two roundels of badam and garnish with almond sliced, saffron and sliver leaf and serve.
• If kept in an air tight container it will stay for a week.
THANDAI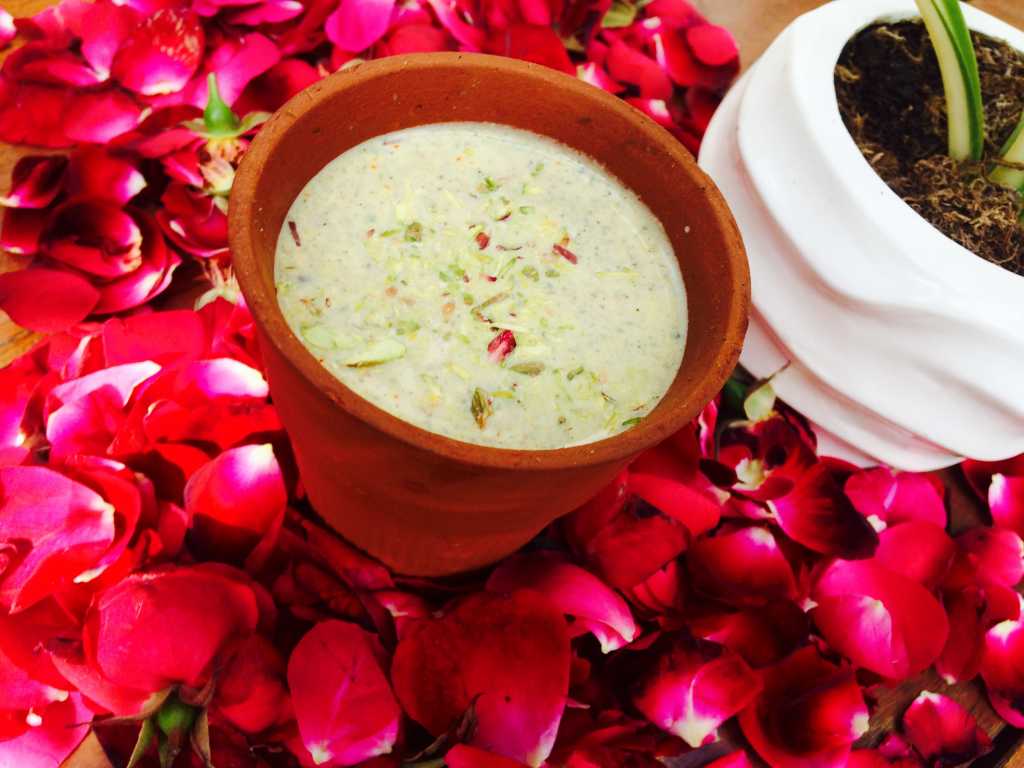 INGREDIENTS QUANTITY
Milk, boiled 1 lts
Almond 100 gm
Char magaj 50 gm
Poppy seed 50 gm
Sunflower seed 50gm
Rose petals 5 gm
Fennel seed 15 gm
Black peppercorn 15 nos
Green cardamom 15 nos
Nutmeg powder ¼ tsp
Sugar 150 gm
Saffron ½ gm
Rose water 20 m
Bhang leaves 2 ½ tbsp
GARNISH
Saffron, soaked in hot milk
Pista, chopped
METHOD
• Pick, wash and drain the bhang leaves.
• Dry roast all fennel seed, black peppercorn, rose petals, saffron, poppy seed, sunflower seed and char magaj and keep aside.
• Balanced and peel almond.
• Now soaked all the ingredients in the milk for 1 hour and keep it in a freezer.
• Now make a fine paste, stain, garnished and served in purvas.