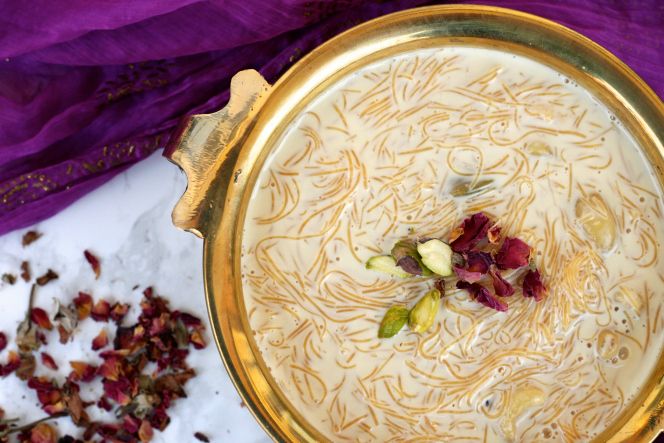 Make these amazing authentic recipes this Eid and treat your family and friends.
Galouti kebab
Lamb boti or mince 500 gm
Raw papaya paste 100 gm
Ginger paste 25 gm
Garlic paste 30 gm
Brown onion paste 15 gm
Brown cashew nut paste 30 gm
Roasted channa powder 30 gm
Saffron 0.5 gm
Green cardamom powder 10 gm
Mace powder 7 gm
Clove powder 2 gm
Garam masala 5 gm
Desi ghee 75 gm
Salt 4 gm (acc to taste)
Degi mirch powder 12 gm
Rose water 2 ml
Kewra water 2ml
Sweet Ittar few drops
Method 
Take lamb boti and mince for at least 6-7 times.
Add ginger paste, garlic paste, brown cashew nut paste, brown onion paste, roasted channa powder, degi mirch powder, mace powder, cardamom powder, garam masala, salt, rose water, kewra essence and itar.
Rub the mince well with the hand (15-20 minutes) till all ingredients are incorporated completely.
Now smoke the mince with clove powder and desi ghee on live charcoal.
Make small patties of your desired size.
Shallow fry the patties.
Serve with mint chutney, onion rings and lemon.
Kemami Seviyan
Seviyan                                              500gm
Desi ghee                                          500gm
Sugar (for sugar syrup)                     1kg
Water (for sugar syrup)                     1 liter
Milk                                                   1 liter
Khoya                                               300gm
Nutmeg powder                                 2gm
Cardamom powder                           10gm
Sugar (acc to taste)                           100 gm
Almond                                              75 gm
Cashew nut                                       100gm
Raisin                                                 100gm
Chirongi                                             100gm
Coconut whole                                   one
Zarday ka rang                                  a pinch
Keora essence                                   few drops
Method 
Break the seviyan about 1 and ½ inch long.
Take ghee in a pan and roast the seviyan till golden brown colour.
Take out seviyan and roast your dry nuts in ghee.
In another pan make sugar syrup with sugar and water till it get single string consistency.
Add the roasted seviyan in sugar syrup and cook on slow heat for about 5 minutes. Now remove pan from heat and take out seviyan in strainer.
Take another pan add milk, grated khoya, cardamom powder, nutmeg powder, zarday ka rang, sugar and reduce it on slow flame for 5 minutes. Add your seviyan and cook for another 5 minutes.
Remove the pan from heat and finish your seviyan with Kewra essence, roasted nuts.
Fill in serving bowl and garnish with coconut rings and silver work.
TIP: Just make sure you get the ingredients beforehand.