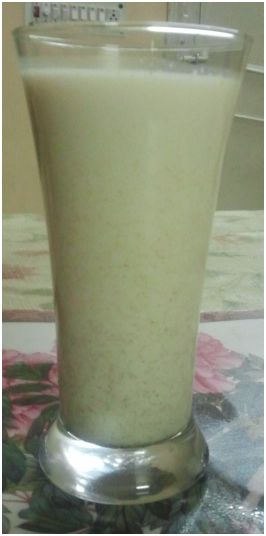 Thandai is the highlight of many Indian festivals from Maha Shivratri to Holi. Though now days abundant ready-to-make mixtures are available in the market but nothing can beat the taste of a traditional recipe. You can also add some bhang if people around you are willing to try it. But bhang induces a state of inebriation for hours.
Ingredients
Fennel seeds( Sauf): 50 grams
Pepper: 2 teaspoon
Poppy seeds (Khus Khus): 2 tablespoon
Soaked Almonds: 20 pieces
Dry Watermelon seed: 2 teaspoon (easily available in the market)
Elaichi: 8 pieces
Rose water: 2 teaspoon
Powdered Sugar ½ cup
Water: 1 cup
Milk: 4 cups
Saffron: 10- 12 strands
Pistachio: 10 pieces
Cashew: 8 pieces
Method
Grind fennel seeds, pepper, watermelon seeds, Khus Khus and elaichi   with  one cup water and make a fine paste. Repeat the process if required.
Crush almonds and cashew with  ¼ cup of milk.
Now mix them both and the remaining milk.
Add rose water, sugar and mix it well. You can add more sugar if you want.
Add saffron and chopped pistachio to the mixture.
The drink is ready to serve. Serve it chilled. The recipe is for 5 to 6 small glasses
Tip: Soak fennel seeds, pepper, watermelon seeds, Khus Khus and elaichi in water for half an hour before grinding.
For Bhang: Buy readymade bhang golis (they are abundantly available at Paan shops) and grind them in a little bit of thandai. (Much like you would beat coffee.) Once it dissolves completely and is lump free add it to the chilled thandai.