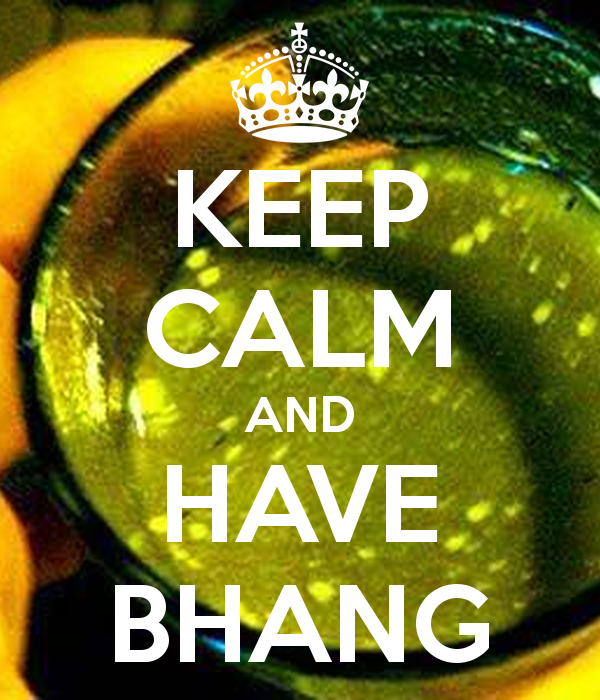 Bhaang or bhang is a fun kick especially synonymous with Holi but an over dose can make your holi colourless! Here's all you need to know about bhang or (cannabis) before having or trying it this holi:
1.       Bhang is a natural intoxicant made from the leaves and flowers of the female cannabis plant and has been used during certain religious rituals since ages in India.
2.       Even though it is illegal to possess bhang it is widely available in leaves, laddu, paste form during festivals like Holi and Shivratri. There are a few government authorised shops in Delhi that sell bhang, sweet shops and paan shops also sell bhang.
3.       You can use bhang in jalebis, gol gappa, thandai, pakora, laddoos, kulfis, and sherbat. Though the bhang laced thandai is most popular.
4.       Bhang during ancient times was used as an anxiety releaser. Bhang is associated with Lord Shiva who discovered it's transcendental properties.
5.       Bhang is made with the flowers (buds) and leaves of female cannabis that are ground into a paste with the help of mortar and pestle. Later this base is used to make thandai, bhang lassi, laddoo or pakoras.
6.       Bhang has medicinal benefits too. It helps release anxiety and helps aid peaceful sleep. It is known to fight depression and cure ailments like fever, arthritis, sunstroke, and indigestion.
7.       An overdose of Bhang can lead to serious health complications. Too much bhang can increase heart rate and blood pressure.
8.       People suffering from heart problems, high BP, or nerve related diseases, bhang can prove fatal!
9.       Do not consume bhang on an empty stomach, or else it can hit you badly.
10.   Never ever mix bang with alcohol as this can land you in the hospital or prove fatal.
Easy Bhang hangover cures:
Herbal cure: Have a cup of herbal tea like green tea or jasmine tea. This acts as a diuretic and will reduce headache and counter the effects of bhang.
Lemon water: Lemon water is a great source of antioxidants and vitamin C.
Hydrate your system: Have lots of water, this will help flush out intoxicants from your body. Dehydration makes the hangover worse.
If you feel out of bounds or too drunk consult a doctor immediately.