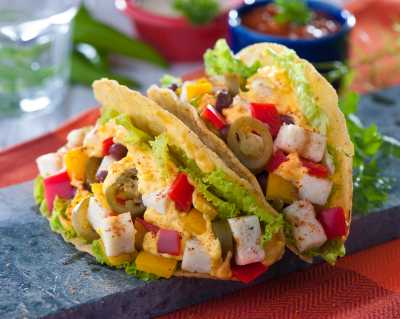 Most of us as mothers need to send that special 15 August or Independence Day special tricoloured tiffin as a part of the celebrations at school. A tricolor meal in my school years meant tricolor poori or rice, but the children nowadays will not really be satisfied with them. So here is a quick, easy and yummy taco recipe:
Preparation time – 20 minutes
Serving – 3 (2 Tacos)
Ingredients:
Cornitos Taco Dinner Kit – 1 containing 6 Taco Shells
Paneer / Tofu cubes – 125 g
Red bell pepper cubes – 50 g
Yellow pepper cubes – 50 g
Cheese Dip – 150 g
Jalapeno sliced – 50 g
Lettuce – 50 g
Salt to taste
White pepper powder – 5 g
1 pack Cornitos Taco Seasoning
50 g Cornitos Chunky Salsa Dip.
Method:
For the Filling:  Marinate Paneer/Tofu with salt, white pepper powder, olive oil.
Keep this aside for 10-15 minutes.
Now heat the grill or a grill pan & pour a little oil on it, grill the Paneer/Tofu until done.
Assembling the Tacos:
Arrange Taco Shells on Taco Boat.
Line the taco shells with lettuce & put the filling inside of Grilled Paneer cubes and seasoned bell pepper cubes.
Then spread Cheese Sauce evenly on top and sprinkle Cornitos Taco seasoning.
Serve Tacos with Cornitos Chunky Salsa Dip or pack in your child's tiffin.