The best chocolate laddoo you will ever have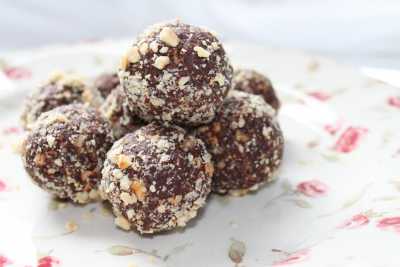 Banana Hazelnut Laddoos are that perfect low cal mithai that not only has significantly less sugar content, but is actually healthy because banana is a key ingredient. This is a sweet that is good enough for those who choose to eat healthy as well as for those who have chronic health conditions such as diabetes, high blood pressure and cholesterol.
Preparation Time: 30 minutes
Cooling time: 30 minutes
Ingredients
· 2 bananas mashed
· 150 grams hazelnut powder
· 50 grams crushed hazelnut pieces
· 50 grams icing sugar
· 30 grams hazelnut paste/ nutella
Ingredients for Coating
· 250 gms dark chocolate
· 1 packet digestive biscuits
Method:
1. Combine all the ingredients (except dark chocolate and digestive biscuits) in a large bowl – best to use hands to ensure the consistency is uniform and there are no lumps. Knead the mixture for a minute like you would knead flour.
2. Take a small lump of the mixture and roll between your palms.
3. Refrigerate for 30 minutes until firm.
4. Melt dark chocolate.
5. Coarsely powder the digestive biscuits and keep in a plate.
6. Dip each laddoo in the melted chocolate – roll over the digestive biscuit crumble to coat evenly.
7. Let it set in the refrigerator for half an hour. Serve chilled.
Recipe by:  Neha Lakhani