Make yummy prawns this season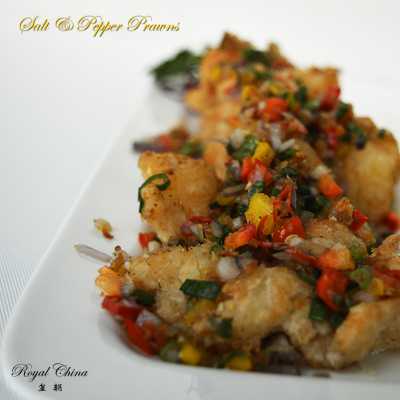 With winter coming in most of us Indians love our fish and prawns in this season. Now North Indians eat sea food or fish wholly in the winter months. So there is nothing like a bit of fish and prawns to keep the chill away.
Prawns are quite delicate and super easy to cook, usually cooking time of prawns is between 5-10 minutes. And there is nothing more delicious and a simple salt and pepper prawns. So we got the Chef Lee Tuck Sang at The Royal China, Delhi to share his popular recipe with us:
Ingredients
2 1/2 tbsp corn-flour
1 tablespoon sea salt
Vegetable oil, for deep frying
750g green king prawns, peeled, tails intact, deveined
1/4 cup fresh coriander leaves
2 long red chilli, thinly sliced
1 green onion, thinly sliced
1/2 tbsp Sichuan peppercorns
5 black peppercorn
1 1/2 tbsp sea salt flakes
Large pinch of chilli flakes
Method
Make the spice mix:
Roast the Sichuan and black peppercorns in a frying pan over a medium heat for 1 min or until fragrant. Finely grind in a spice mill or using a pestle and mortar, and then add the salt and chilli flakes and mix together & Transfer to a bowl.
Combine corn-flour, salt and pepper in a large bowl. Add 750g  prawns. Toss to coat, shaking off excess.
Heat half the oil in a large, non-stick frying pan over high heat. Cook prawns, stirring, for 3 to 4 minutes or until pink.
Repeat with remaining corn-flour mixture, prawns and oil.
Place prawns on a plate. Top with coriander, chilli and onion. Serve.