The easiest recipe for making Modak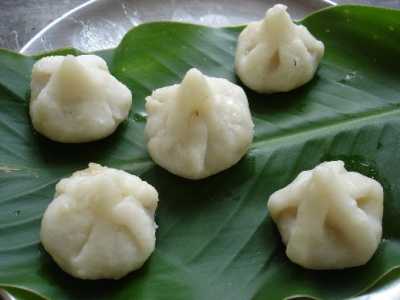 A modak is a sweet dumpling popular in Maharashtra. Modak is a one of the types of Naivedyam offered to Lord Ganeshduring Ganesh Chauthi (Bhadrapada Shuddha Chaturthi).
Every Ganesh Chaturthi I want to try my hands at modak making. But these little sweet dumplings look like a task. So this year we got the talented chefs at Leela Ambience Hotel, Delhi help us with some modak making. Modaks are easy to make, all you need is precise quantities and some patience.
INGREDIENTS                                                                    QUANTITY
FOR THE DOUGH
Rice flour                                                                                      2 cups
Desi ghee                                                                                     1 tbsp
Salt                                                                                               a pinch
Hot water                                                                                      2 cup
FOR THE FILLING
Coconut (Grated)                                                                          2 cups
Jaggery                                                                                         1 ½ cups
Roasted Sesame seed                                                                  1 tsp
Cardamom (Powdered)                                                                 6 nos
METHOD:
TO MAKE THE DOUGH
Boil water with salt, a teaspoon of ghee.
Now add the rice flour gradually into the boiling water, spoon by spoon and keep stirring so that there are no lumps. Cook the flour until it forms a mass.
Turn off the heat and cool the dough before you knead the cooked flour into smooth dough.
TO MAKE FILLING
In a nonstick pan, dry roast the coconut and add the jaggery, now mix in the roasted sesame seeds and cardamom powder.
Heat this mix and keep on stirring the mixture till the liquid dries up and thickens.
Cool the mix and make lime sized balls.
TO MAKE MODAK
Grease your palms with ghee. Pinch out a little dough and flatten it on your palm uniformly. Shape it into a tiny cup.
Place the filling in the cup and securely pull up all the edges to shape it into a modak pouch.
Grease a plate with ghee, place the modaks with space between them and let them steam cook for 30 minutes.
Serve with some warm ghee.
Recipe by:The Leela Ambience Hotel, Delhi