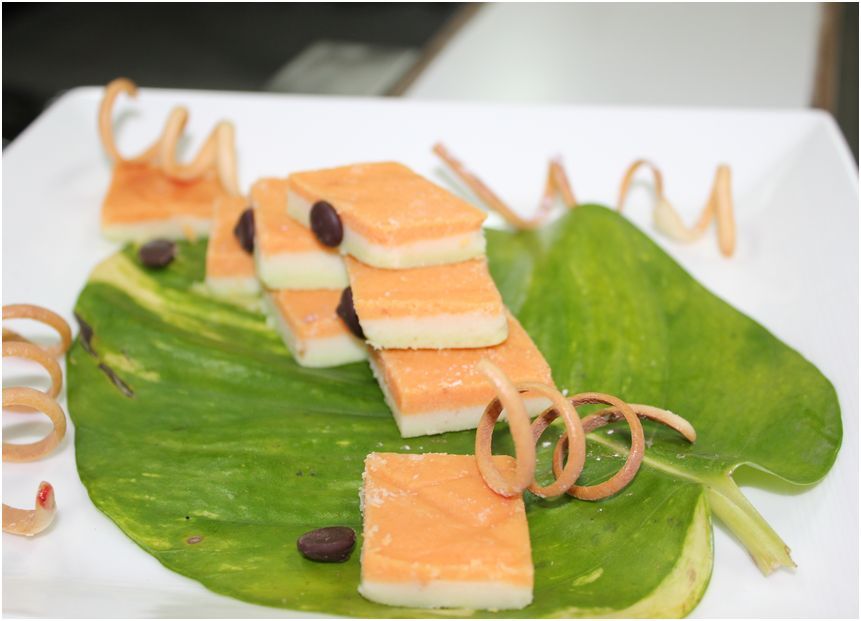 This Independence Day bring the colours of flag on your plate too. Try this colourful and yummy dessert and treat your friends.
Pista
Khoya pindi 1kg
Sugar 360gm
Desi ghee 50gm
Peshawari Pista 350gm
Cardamom powder 5gm
Method
Blanch the pista and puree it
Roast the Khoya pindi with the sugar until liquid.
Now add the Desi ghee, pista puree and cardamom powder and let boil for 4-5 minutes
Flat into sheet pan and cool down for 15 minutes before spreading the next layer
Cashew nut
Sugar 1kg
Water 500ml
Cashew nut 550gm
Method
Soak the cashew nut in water for 1 hour.
Take out of the water and grind with the breakfast sugar
Roast for about 20-25 minutes and spread on the sheet pan with pista layer and let it cool down for 20 minutes.
Orange
Khoya pindi 1kg
Sugar 400gm
Desi ghee 150gm
Orange pulp 500gm
Grated orange 5nos
Method
Roast the Khoya pindi with the sugar (250gm) until liquid and let it boil for 3 minutes ,than add the Desi ghee.
In another pan reduce orange pulp, grated orange and rest of the sugar on slow heat till it coats the back of spoon.
When it's thick than mix both and cook for another 5 minute and spread on the cashew nut layer.
Rest it overnight and cut into desired shape and size .
Recipe by Anand Panwar, Pastry chef, Dusit Devarana