Here are some classic and favourite recipes to make this Christmas
Christmas has become much about going to malls and consumerism. How about this time around you have a thankful and delicious meal with your near and dear ones? Well here are some amazing recipes you can make this Christmas for the best dinner!
Wild moshroom rissotto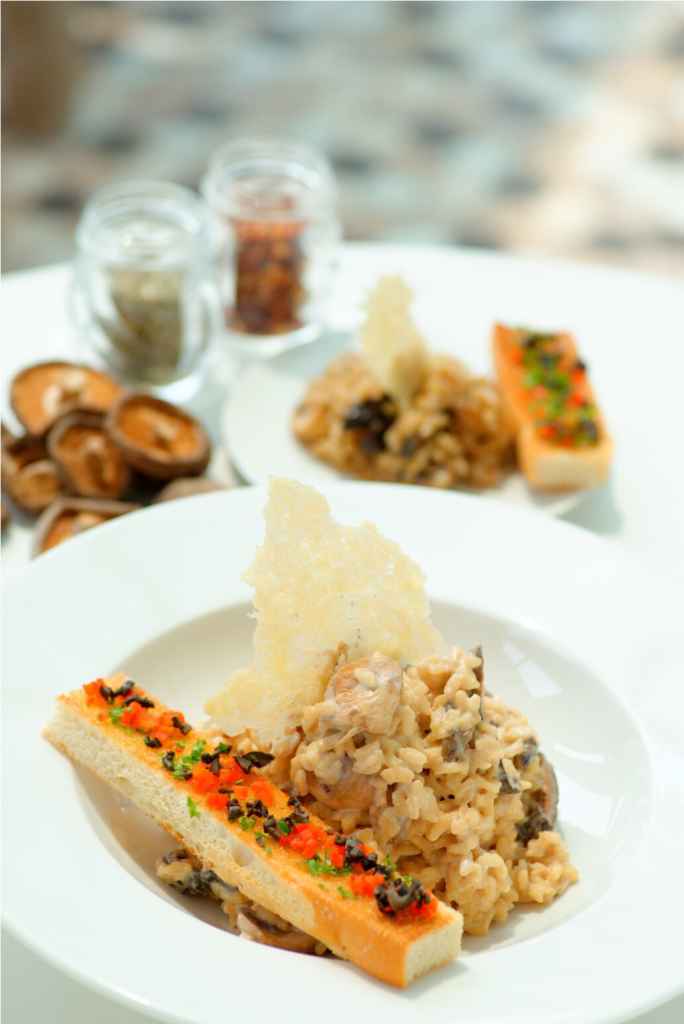 Ingredients
Risotto rice – 60Gms
Wild mushroom- 30Gms
Butter- 25Gms
Veg broth – 60Ml
Olive oil – 15Ml
White wine-10Ml
Cheese tuile -1No
Parmesan cheese – 25Gms
Method of preparation
Melt butter in heavy large skillet over medium-high heat.
Add mushrooms and sprinkle with salt. Sauté mushrooms until tender and beginning to brown, 3 to 4 minutes.
Transfer mushrooms to medium bowl.
Bring cups veg broth to simmer in medium saucepan; keep warm.
Melt remaining tablespoons butter with olive oil in heavy large saucepan over medium-low heat.
Add leek, sprinkle with salt, and sauté until tender, 4 to 5 minutes. Add rice and increase heat to medium. Stir until edges of rice begin to look translucent, 3 to 4 minutes.
Add white wine and stir until liquid is absorbed, about 1 minute.
Add cup warm veg broth broth; stir until almost all broth is absorbed, about 1 minute. Continue adding broth by , stirring until almost all broth is absorbed before adding more, until rice is halfway cooked, about 10 minutes.
Stir in sautéed mushrooms. Continue adding broth, stirring until almost all broth is absorbed before adding more, until rice is tender but still firm to bite and risotto is creamy, about 10 minutes.
Stir in grated Parmesan cheese, if using. Transfer risotto to serving bowl. Pass additional Parmesan cheese alongside, if desired.
Garnish with Cheese tuile
2. Nasi Goreng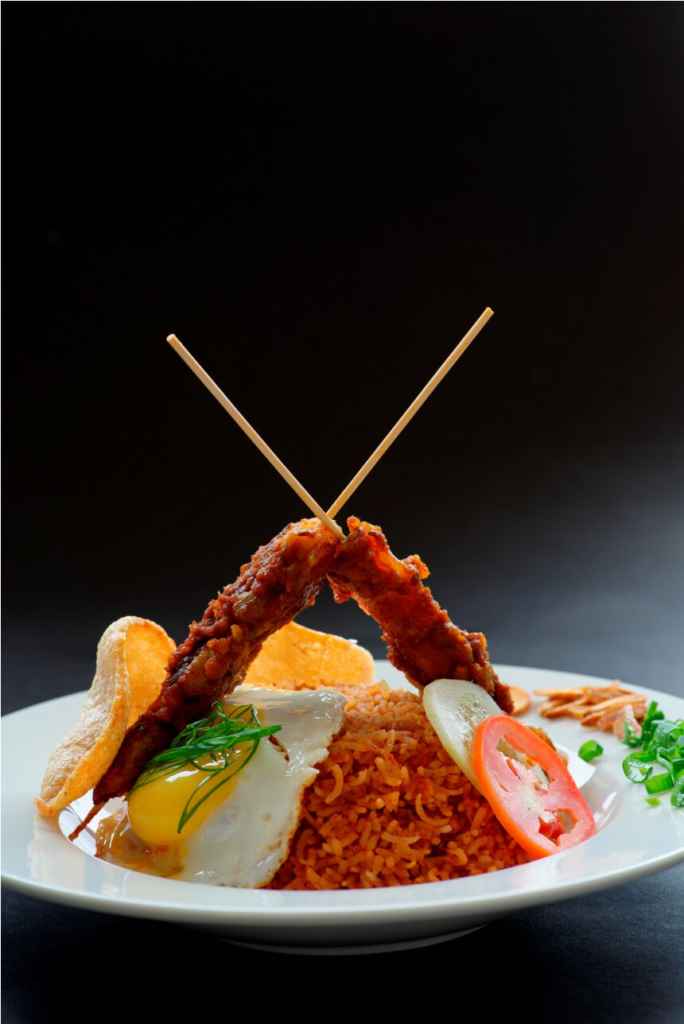 Ingredient
Basmati rice – 50Gms
Shrim paste- 10Gms
Sambal sauce – 2Tsp
Fish sauce -1Tsp
Oyster sauce – 1Tsp
Chilli paste – 1Tsp
Prawn – 40gms
Eggs – 1No
Cucumber – 10Gms
Tomato – 10Gms
Prawn Crackers – 12gms
Chicken satay – 40Gms
Method of preparation
Heat a tablespoon of oil on low heat in a wok. Add the shrimp paste, and cook until it is brown and fragrant.
Add prawn, sambal sauce, Fish sauce, oyster sauce.
Add the chili paste followed by the rice. Turn up the heat.
Stir fry until all the ingredients are evenly distributed. Stir constantly so that none of the ingredients stick to the wok.
Add two tablespoons of water if you feel the rice is too grainy and hard. The rice should be nice and fluffy.
Heat the remaining tablespoon of cooking oil in another pan and fry the eggs sunny side up.
Serve the rice with a few slices of cucumbers and tomatoes.
Garnish with chicken satay, fried eggs, prawn crackers.
3.Tira misu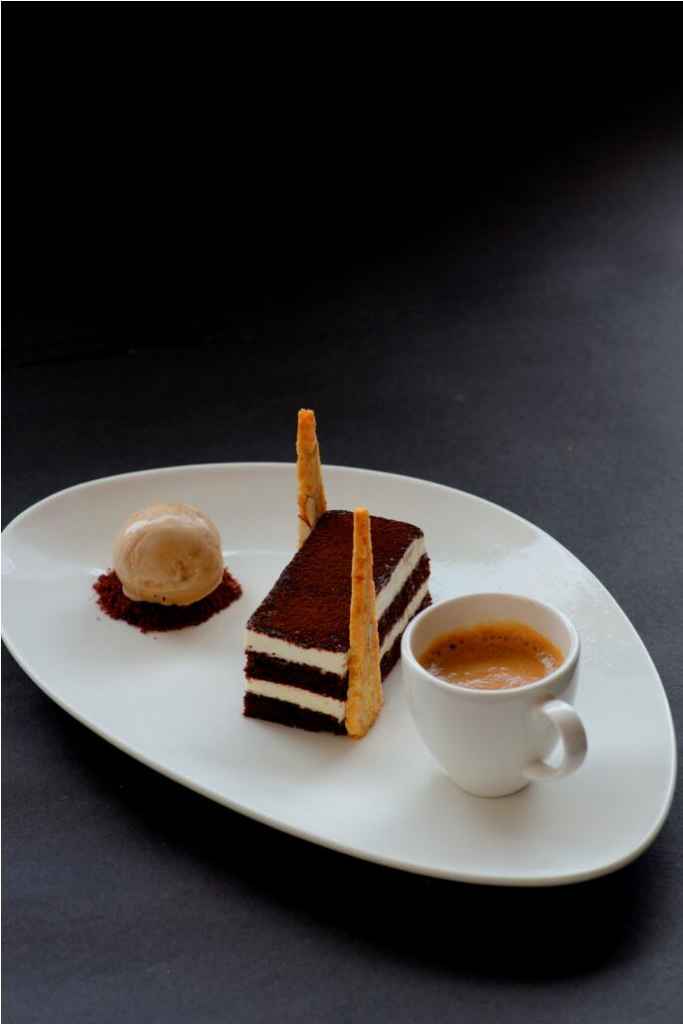 Ingredient
Sponge
Egg white -1No
Egg yolk – 1No
Sugar – 50Gms
Refine flour – 50Gms
Baking powder – 1Gms
Cream Mix
Egg yolk -1No
Powder sugar – 10Gms
Mascarpone – 40gms
Whipped cream – 60gms
Express shots – 30Ml
Rum – 5Ml
Biscotti – 15Gms
Coffee ice cream -30Gms
Espresso shots-30Ml
Method of preparation
Make the sponge with egg white, egg yolk, sugar, refined flour and baking powder
In a medium saucepan, whisk together egg yolks and sugar until well blended.
In a medium bowl, beat cream until stiff peaks form. Whisk mascarpone into yolk mixture until smooth.
In a small bowl, combine coffee and rum.
Poured it over the sponge. spread mascarpone mixture on sponge
Repeat layers and sprinkle with cocoa.
Cover and refrigerate 4 to 6 hours, until set.
Cut it in to rectangle served with biscotti, coffee ice cream and espresso shots
Recipes by Chef Swatantra Gautam, Executive Chef at Azaya Beach Resort Goa