Here is an easy recipe to make Chhuhare ke Ladoo at home this festive season.
The time of festivities is finally here and many of us have already started the preparations. delicious food is an essential part of festivals and so are desserts. Homemade desserts have a special place in our hearts so it is important to keep easy recipes handy.
Here is the recipe of Chhuhare Ke Ladoo which can be easily made at home and you can have it to your heart's content.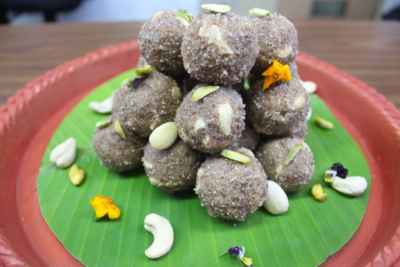 Check out the recipe:
Ingredients:
– Chhuhara (250gm)
– Ghee (150gm)
– Powder sugar (200gm)
– Green cardamom powder (10gm)
– Mawa (50gm)
– Milk (1ltr)
– Cashew nuts (50gms)
Garnish:
-Almonds (15gm)
-Pistachios (15gm)
Method:
1. soak the Chhuare for 24 hours, remove the seeds, and make a thick paste.
2. In a kadhai (wok), melt the ghee and add the Chhuhare paste. Stir-fry over low heat. It takes about 40 minutes for the flour to get cooked and has a nice roasted smell.
3. Once the color becomes light brown. Add the Mava and cooked it till the Mava mix evenly. Switch off the heat and leave the mixture to cool it down to room temperature. If it does not cool entirely, it becomes moist when sugar is added.
4. Add the sugar and cardamom and mix well by rubbing it with your open palm against the base of the bowl. Rub till it blends thoroughly and add cashew nuts and pistachios after.
5. Shape into tight, hard balls, pressing hard at every stage. At the final stage, keep it pressed a little longer so that the surface becomes smooth.
6. Decorate the top of each ball with almonds and pistachios. Serve.
7. These ladoos can be stored for almost 4-5 weeks in an airtight jar.
Recipe courtesy: Chef Rupesh Khandekar, Chef De Cuisine, Hotel Sahara Star