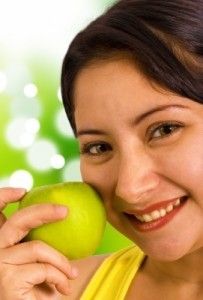 Chemicals are always bad news. The chemical laden concoctions we use as cosmetics deteriorate the skin. But do you know that eating fruit can be a treat for the  taste buds and the skin? Fruits are the best rejuvenation for health and skin. So shun the harmful chemical rich cosmetics and opt for natural fruit facials. Just eat and apply fruits for a natural glowing skin.
 Papaya: Papaya is beneficial both for body and skin. Rich in Vitamin A this fruit cleanses the skin and gives it a nice glow. A special enzyme called papain in papaya can kill dead cells and cure skin impurities. Drink a glass of papaya milk or just apply the flesh of papaya on your skin.
 Grapes: For healthy, glowing skin grapes work as a cleanser. Grapes are full of polyphenols, natural compounds that contain antioxidant and anti-inflammatory properties. This helps in anti-aging and acne care. Alpha hydroxyl acids or AHA's (expensive creams and facials have them) in grapes are useful in removing scars. Grape juice is excellent for skin as it can give you blemish-free, youthful skin. Mix the juice with multani mitti for face mask or apply raw.
Apples: An apple a day keeps the doctor away and when applied on skin it keeps you away from a salon too! Using apples in facial applications means your skin will be getting Vitamins A, B and C directly. They also help tone tired and stressed-out skin, treat sunburns and acne. Apply apple juice on your face or mix it will glycerin to treat sunburns.
 Pineapple: The fruit has alpha-hydroxy acids which slow down the aging process. Besides it's the best home remedies for wrinkles, moles, warts, dark spots and blemishes. So drink pineapple juice or eat pineapple daily to look younger.
Lemon: Packed with enzymes, sugar and fruit acids lemon helps to eliminate dead cells from the skin and also to maintain proper blood circulation.  Lemon is also known as natural bleach and can be used for whitening dark elbows, knees, neck and underarms. Rub lemon peel or juice on the dark areas regularly to get to lighten the skin colour.