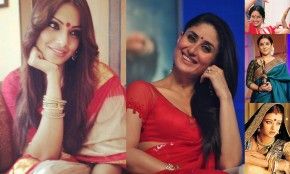 The bright red dot on the forehead has enamoured men since ages and is seen as an epitome of feminine beauty.  It has been a favourite of telly soaps and now the bindi has become so mainstream with everyone from B'town to Hollywood celebs sporting the sacred dot of vermilion on their foreheads.
Historic significance
Bindi is a colorful dot that is placed on the forehead in Hinduism.  The bindi originated way back in the ancient times. The word 'bindi' is derived from the Sanskrit word 'bindu' which means a drop. It also suggests the mystic third eye of a person.
Spiritual and health significance of bindi
Spiritually bindi plays an important role and is often plied after morning prayers, according to hindu dharma. Vermilion, traditionally used exclusively for bindis, is also called sindoor. Sindoor means the colour red and it represents Shakti (strength). Bindi also symbolizes love and married women apply bindi to captivate her husband.
From a health point of view Bindi is worn between the eyebrows right on the pineal gland. This is an important center of the nerves and application of sandalwood or ash keeps the nerves cool. This helps cool the body and conserve energy.
In ancient India Bindi was made from yellow and red sandalwood, red and yellow turmeric, saffron, various flowers, ash, zinc oxide all these had cooling properties.
Today the bindi we wear is made of glue or glass and doesn't benefit in any way and is just an accessory.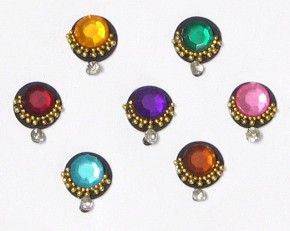 Fashion changes
While in yesteryears the bindi was used to demarcate the different sects of society.
While married women wore a red bindi, young unmarried girls wore a black one to ward of evil eye. The 4 castes also wore different coloured tilaks (this was followed in very conservative families in rural India):
Brahmins wore a tilak of white sandalwood which signifies purity.
Kshatriyas (Kings, warriors and administrators) wore red tilak to signify courage.
Vaishyas (Business men) wore a yellow tilak that signifies prosperity.
The Sudra (service class) wore a black tilak that signified their services to other classes.
Recently it is more of a fashion symbol and a symbol of marriage. From traditional vermilion (sindhoor) placed on the forehead, to stick-ons, to rhinestones the bindi has evolved.
How to decide what looks best
When you decide to wear a bindi, your face type places an important role. A person with a thin face can carry rhinestone bindi with élan, a round faced woman can wear a tilak shaped one to make her face appear longer. The traditional round dot suits everyone and in almost all sizes, you just need to be confident to carry it.
Bindi skin care
The gum or paste which makes the bindi stick to your forehead is an adhesive and can make your skin darker or break out. The best way to avoid this is to apply a touch of primer before applying the bindi.
If your skin reacts or blackens wash it with soap and water or scrub it gently and apply some calamine lotion.