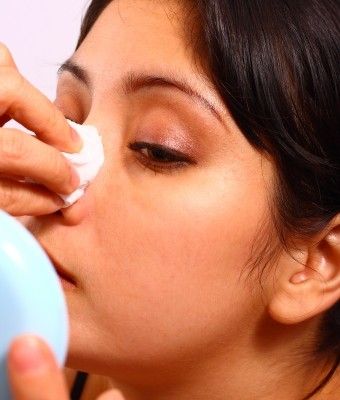 Blackheads are a common skin problem caused when blocked pore enlarge. Dirt, oil, pollution and makeup block the pores which further turn into blackheads and whiteheads. Getting rid of them is a painful task but AAW brings to you some easy, natural and non-painful tricks to get rid of them.
Toothpaste: Besides keeping your teeth healthy toothpaste also helps in removing blackheads and whiteheads. Just apply a thin paste to your infected areas and let it sit on your face for at least 25 minutes. Now remove the paste and wash the face thoroughly. Repeat this every two or three day.
Rice: Soak rice in milk for at least 5 hours and then blend it. Use the paste as a scrub to get rid of blackheads.
Potatoes: Rub grated potato on the affected area for at least 10 minutes and then wash it off.
Honey: Spread the yummy and healthy honey on the affected area and remove it after fifteen minutes.
Lemon: The nutrients in lemon are good for all skin type. Mix lemon juice with salt, yoghurt and honey and apply this mixture to scrub the area gently having blackheads.
Green tea: Yes your regular green tea also helps in removing blackheads. Just a make paste of green tea and water and use it as a scrub. Rinse with lukewarm water. It cleans oily skin and helps unclog pores.
Baking soda: It clears the impurities in the skin. Take two tablespoons of baking soda and mix it with water to make a paste. Apply this paste on blackheads and massage gently. Allow it to dry for a few minutes and wash with warm water.