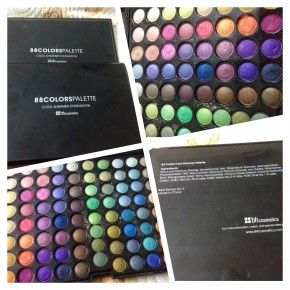 Few months back while checking an international fashion website I clicked on an advertisement of a  makeup brand. Being a makeup freak I started exploring the website to know more about the brand and its products. While checking out their products an 88 colour cool shimmer eye shadow palette instantly caught my attention. But the sad part was that they offered shipping only in Canada. I was so fascinated by it that I started looking for it online on different international e-commerce websites and finally I got one on Amarzon and ordered it. I have been using the 88 colour eyeshadow palette in cool shimmery. The 88 Color palette cool shimmery eyeshadows by Bh cosmetics has become my constant companion when dressing up for any occasion, here's my take on the product:
Claims: No claims about the product are mentioned on the pack.
Packaging: It comes in a black plastic palette with a huge mirror on one side.
Price: In India it would cost you $16+ shipping charges.
Pros: It's worth a buy because:
It has almost all colours from naked to neon so you don't to buy an extra palette of eyeshades.
It is very affordable as compared to other in the market.
It has a huge mirror inside.
The colour easily stays for 4 to 5 hours.
The eye shadows have very little fall out.
They are soft and easy to apply.
The ingredient list is mentioned which is not very impressive though.
The expiry date is also mentioned on the pack. Expiry date on eye shadows is important as I feel eyes are the most sensitive area and only quality products should be used.
It wil not make your lids darken, a friend upon using a random local eyeshadow had the problem that her lids darkened and never discoloured. With this kit I have never had such issues.
Very reasonable priced. at 16 $ you get all the shades you would ever apply and some you would have never tried!
Cons: Availability is problem in India. It is only available online on some international websites likes amarzon and ebay.
The packing is huge because of number of shades which makes it not so travel friendly
Rating: I would give it 5/5 and would suggest all beginners to buy it so that can experiment with all  shades without spending much.