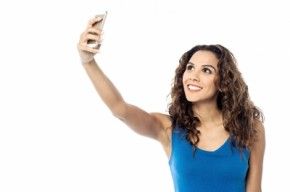 Ohh beta selfie le le re! The selfie fever is running high and we girls love taking selfies. Often to get that perfect one we tend to click dozens of photos. But now clicking a selfie rather a perfect selfie would be super easy with the following tips and tricks. So read on and get that perfect selfie in single click.
To avoid half-closed eyes, just close your eyes just before the picture is taken and open them slowly before the camera clicks.

To avoid a double chin, elongate your neck and push your face forward a bit. Think of sticking out your forehead and tipping your chin slightly down.

Take a look at your favorite selfie and try to spot a pattern and try to replicate your best poses next time you have your photo taken.

Facing the camera straight on is rarely flattering; instead, turn your head to a three-quarter position to give your features depth. A photo shot from just above you is way more flattering than one shot from below.

Stand in front of a white wall as a light-colored backdrop will help brighten your face.

Avoid standing directly under a light, which can cast weird shadows on your face. Instead, stand facing a natural light source.

Forget saying "cheese," and instead think of something funny as a natural smile trumps a fake one every time.
For the perfect make up here are few things you must follow:
Wear a blush as without some colour on your cheeks, your face can look two dimensional in photos.

Fill in your brows as they make you look looking wide awake.

Avoid serious sparkle on your face as anything too shimmery on the skin can just be too much in a photo. Add a little highlighter to just the tips of the cheekbones and the bridge of the nose with a powder highlighter.

Wear a bright lipstick as dark lipstick can have a minimizing effect on lips and look aging and unflattering. Always stick with brighter colours.

A bit of sparkle below the neck can give your skin a pretty sheen just dust your collarbone and shoulders with a shimmering powder.