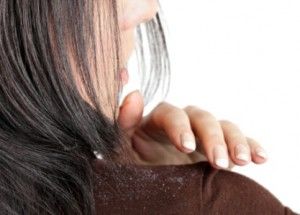 Dandruff is the most common hair problem Indian women face. It is mainly due to the extreme environment our hair faces. Although there are abundant anti-dandruff shampoos and solutions available in the markets but sadly not many of them have long-term results.
If you are tired of using chemicals for dandruff treatment, here are few simple and easy remedies to get rid of those itchy white flakes.
·      Apply fermented curd on your scalp and hair. Keep for about an hour and wash it with a mild shampoo.
·      Make a 1:1 mixture of almond and olive oil. Apply it on your scalp. Wash it after about five minutes.
·      Rinsing your scalp with lemon juice works wonders. But do not try this on colored hair. Lemon is a natural bleaching agent it can dull hair color.
·      Wash your hair normally, pour some white vinegar carefully onto hair and scrub it into your scalp. Do not let it get into your eyes.
·      Apply baby oil onto scalp and massage gently. Cover with a towel and leave overnight.
·      Baking soda has the power to clear excess flakes. It clarifies the scalp from dandruff. Add 1 tsp. of baking soda to a handful of shampoo.
·      Crush two Crocin (or any Asprin), mix into your shampoo and use it. This is the best at home anti-dandruff shampoo you can get.
·      Apply aloe-vera gel on the scalp and leave on for 15 minutes.
·      Apply egg on scalp and rinse it off within an hour to get rid of dandruff.
·      Apply neem leaves paste on your scalp to fight dandruff ,it is very effective.
·      Leave onion paste on dandruff skin for one hour and wash thoroughly. Application of lemon juice will remove that onion-ish smell from your hair.
·      Put one small cube of camphor in olive oil, dissolve it completely and massage this oil on your scalp. Shampoo as usual and get shiny, fragrant and dandruff free locks.