Aaradhya Bachchan's dance video is a slap on troll's face who said she can't walk properly:
A day before leaving for Cannes 2019 Aishwarya Rai Bachchan and Abhishek Bachchan's daughter gave a public performance for the first time at the Summer Funk 2019, organized by Shiamak Davar's Institute for Performing Arts.
The little baby girl was dressed in a pink frock and denim jacket, she performed to the famous track "Mere Gully Mein". Since then the clip is going viral on social media and people are praising her with compliments.
Check out her dance video below:
View this post on Instagram
She set the stage on fire with her amazing dance moves. We wonder how this munchkin has such superb moves at such a young age. Maybe it is Aishwarya's genes, we all know she is a great dancer.
The same trolls who have criticized Aishwarya for being overprotective and who suspected some problem with Aaradhya praised the little one. People even praised Aishwarya for raising her so well.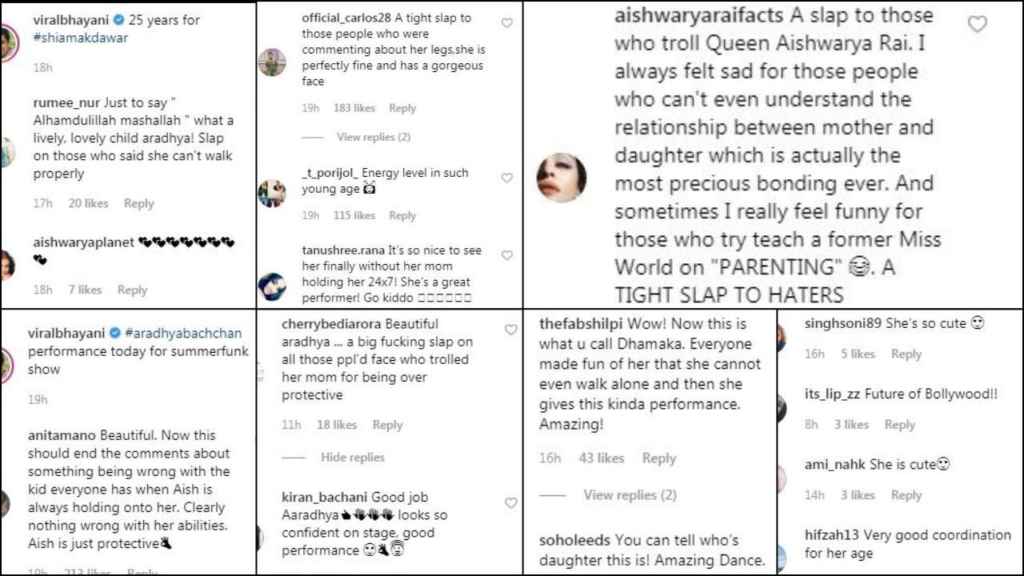 Check out the pictures from the event:
View this post on Instagram
Grandmothers of Aaradhya: Jaya Bachchan and Vrinda Rai and Aunt Shweta Nanda also came to show their support.
Shaimak Davar Institute completed 25 years on Saturday and celebrated this day at Mumbai's St. Andrews Auditorium. One of the stage performances was by Aaradhya Bachchan.
After the show, Aishwarya left for Cannes 2019 with her lovely daughter Aaradhya. Both of them have made an amazing appearance:
View this post on Instagram
View this post on Instagram