Bollywood celebrities condemn JNU violence, check out their tweets:
Violence broke out at JNU on Sunday night after few masked men with sticks attacked students and teachers and damaged the property on the campus. Several videos showing masked people carrying sticks and bats have gone viral on social media as well. The whole nation is angry about this and some Bollywood stars have reacted to the violence that took place JNU.
Anil Kapoor said: "It has to be condemned. It was quite sad and shocking about what I saw. It was very disturbing. I couldn't sleep the entire night, thinking about what has happened. It has to be condemned. Nothing will come out of violence. Whoever did this, they should be published absolutely,".
Urgent appeal!!!! To all Delhiites PLS gather in large numbers outside the Main Gate of JNU campus on Baba Gangnath Marg.. to pressure the govt. & #DelhiPolice to stop the rampage by alleged ABVP masked goons on JNU campus. PLS PLS share to everyone in Delhi!🙏🏿🙏🏿 9pm on 5th. Jan pic.twitter.com/IXgvvazoSn

— Swara Bhasker (@ReallySwara) January 5, 2020
Aditya Roy Kapur added, "There's no place for that kind of violence in our country. The perpetrators have to be brought to task."
Why do you need to cover your face? Because you know you are doing something wrong, illegal & punishable. There is no honour in this-Its horrific to see the visuals of students & teachers brutally attacked by masked goons inside JNU-Such violence cannot & should not be tolerated

— Riteish Deshmukh (@Riteishd) January 5, 2020
Actor Richa Chadha said: "A few months ago JNU gave the world a Nobel laureate. Now JNU teachers and students are being beaten up for protesting a fee hike. World watches."
How long will this be allowed to continue? How long will you turn a blind eye? How long will the defenceless be attacked in the name of politics or religion? Enough is enough. @DelhiPolice

— Dia Mirza (@deespeak) January 5, 2020
such is the condition inside what we consider to be a place where our future is shaped. It's getting scarred for ever. Irreversible damage. What kind of shaping up is happening here, it's there for us to see…. saddening https://t.co/Qt2q7HRhLG

— taapsee pannu (@taapsee) January 5, 2020
Director Anubhav Sinha tweeted: "Either this government is not capable of maintaining law and order or they are complicit…"
"Masaan" fame director Neeraj Ghaywan requested the police to help the students.
अब बारी भाजपा की है निंदा करने की । वो बोलेंगे कि ये जिन्होंने किया ग़लत था , लेकिन सच यह है की जो हुआ भाजपा और ABVP ने किया और @narendramodi और @AmitShah की निगरानी और छत्र्छाया में किया । @DelhiPolice के साथ मिल के किया । यही एकमात्र सच है ।

— Anurag Kashyap (@anuragkashyap72) January 5, 2020
What happened in #JNU is shameful, horrific and heartbreaking. Those who are responsible behind these attacks should be punished. #JNUViolence

— Rajkummar Rao (@RajkummarRao) January 5, 2020
Taapsee said it was saddening to see an educational institution "getting scarred forever".
If tonight we as a country cannot grow a conscience then there is no hope. The writing is on the wall. Think carefully about which side of history you want to be on. Each person who speaks up counts. There has to be a greater number of people who value and treasure humanity.

— Alankrita Shrivastava (@alankrita601) January 5, 2020
JNU के घटना से मन दुखी और व्यथित है , ये अमानवीय है। हिंसा क़तई स्वीकार नही।

— पंकज त्रिपाठी (@TripathiiPankaj) January 6, 2020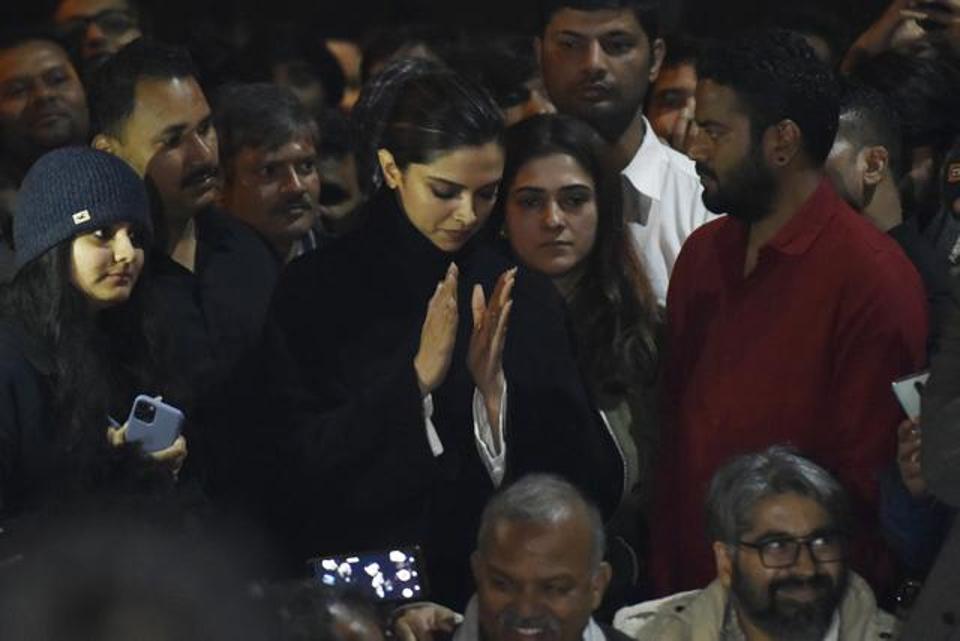 Chhapaak actress Deepika Padukone visited the university on Tuesday. she was very angery at the situation. The actor said in an interview: "I am very angry at what is happening but it is worse that no action is being taken."  she adds: "What I wanted to say I said it two years ago when Padmaavat was released. What I am seeing today, it pains me. I hope it doesn't become the new normal. That anyone can say anything and they can get away with it. I fear and I'm sad. This is not the foundation of our country."
This is a saddening situation for the nation.