Sabyasachi gave an answer to Falguni Peacock's views:
In today's time Body Shaming has become one of the most crucial issues and people are changing their mind towards this positively. However, when a popular fashion designer or a celebrity speaks negative on this, it really disappoints everyone.
Recently famous fashion designer Falguni Peacock revealed her new bridal collection with Sara Ali Khan as a showstopper in it. While giving an interview on the fresh designs she said that plus-sized brides should lose some inches before selecting their bridal attire and that they should steer clear of deep, plunging necklines. She said, "I won't blatantly tell her to lose weight but if you have time and you can work on yourself. It is pretty easy to lose a couple of inches if you want to."
Not only this, but when she was asked what advice she would give the brides if they were unable to shed those few pounds, Falguni said, "Long blouses, more flared lehengas and not fitted because fitted won't really work when you're a little big. No deep necks for them may be more higher".
Immediately this went viral and she faced a lot of negative comments for saying this for plus size people. Meanwhile the king of fashion industry  Sabya shared a screenshot of his winter 2019 bridal collection in an Insta Story captioned "Sorry but did @falgunipeacock say 'no deep necks' for plus-size brides? Here's your answer…"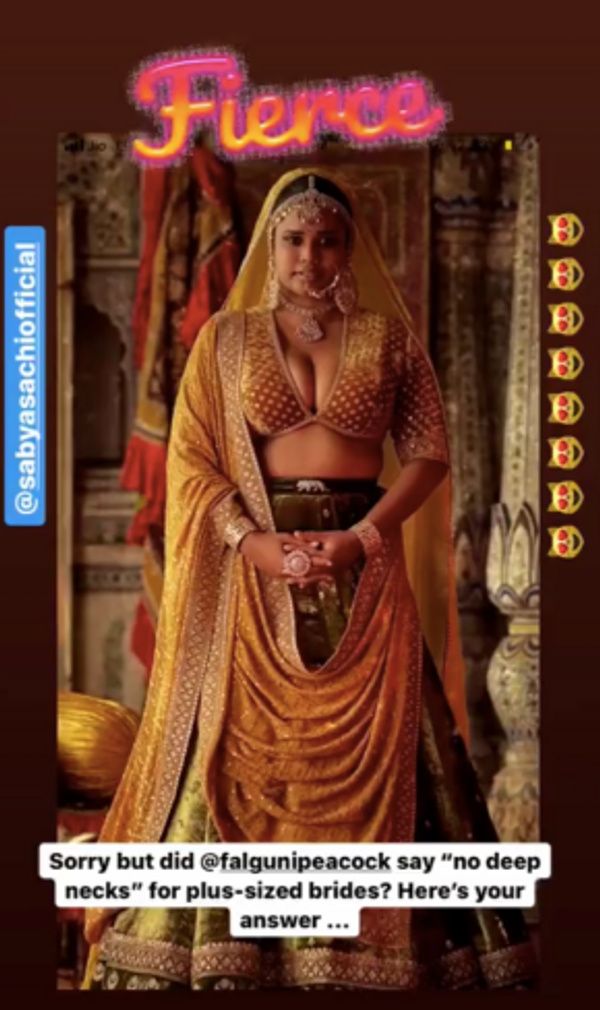 Amber Qureshi, who owns the brand Plum Tree first posted the video on her own Instagram account. She wrote, "THIS. Yes, this is is what is wrong with our society. Shallow Designers like @falgunishanepeacockindia conveniently telling a fat bride "it's easy to lose a few inches' and then come back to buy a wedding lehenga".. I mean.. how about YOU make a dress instead that would fit the bride's size wouldn't that be easier Falguni.And, what on earth do you mean by fat women should wear high necks and Flaired skirts, and not fitted clothes.. I mean your idea to dress a fat bride is to put her in a sack. Disgraceful.. You and designers like you are toxic. Filling young mind's with fake idea of what beauty is. Ugh!! Let women and men be. Everyone is beautiful.. Be it a size 2 or or size 22.. everyone is gorgeous. And everyone has the right to wear and dress and buy the clothes that they'd like. N Your job is to make that fuckin dress available in every size. Period. 😠#stopthistoxicity let's make #fashion available for all. Shall we? @falgunipeacock stand up and speak now." Amber's followers started reacting and sharing the video and soon it was all over the internet.
After facing major backlash Falguni Peacock wrote an apology for what she said and also cleared that her intention was not to hurt anyone. Check out her post below: