Priyanka Chopra drops 'Chopra Jonas' from her surname on Twitter and Instagram, netizens speculate reasons: 
Priyanka just dropped "Chopra Jonas" from her name on Twitter and fans have started speculating the reason that Priyanka and Nick Jonas are headed for a divorce, three years after their wedding. However, sources close to the couple have said that these rumours are rubbish. 
Her friend said: "These divorce rumours are all amusing. Priyanka is using her first name because she wants to use that in her future projects. There is no truth to any other speculation. Also, she's not only dropped 'Jonas' but 'Chopra' as well on social media,"
Priyanka Chopra Jonas, on November 22, dropped 'Chopra Jonas' from her Instagram and Twitter profiles. Her profile on the photo-sharing platform now reads just Priyanka.  
People were left surprised, and shocked, see the reactions below: 
Nick Jonas right now….

PriyankaChopra drops husband NickJonas surname from her Instagram account leaving fans puzzled

Retweet#PriyankaChopra #priyankachoprajonas #nickjonas pic.twitter.com/XLPJk1Tlav

— Gautam Gada (@GautamGada) November 22, 2021
Zayn and Gigi, Shawn and Camilla and now maybe Nick and Priyanka👀#PriyankaChopra #NickJonas

— Harsh Halankar (@Harsh_Halankar) November 22, 2021
More drama in unfold in the coming days. #PriyankaChopra pic.twitter.com/7vLvXZine1

— Sia (@AnytimeGorgeous) November 22, 2021
#PriyankaChopra dropped #Jonas name from her IG profile ..What if #NickJonas is taking her name and changing it to #NickJonasChopra ..
Any clue ??

— Niraag® S 🏏 (@niraag69) November 22, 2021
Priyanka Chopra's mother Madhu Chopra has also denied all allegations and speculations around her daughter's alleged separation from her husband Nick Jonas. She said: "Don't believe these baseless rumours." The friend maintained that social media followers have developed a tendency to overthink.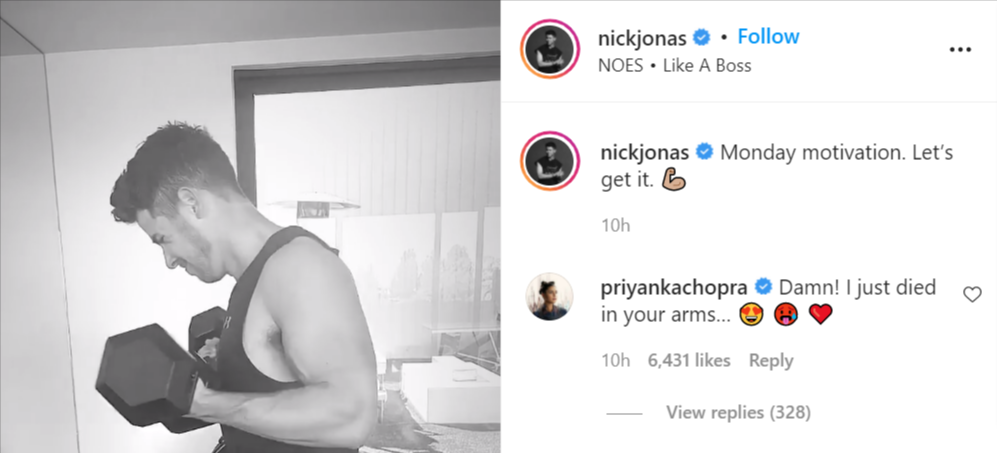 If you are still stressed about the same then PeeCee herself has decided to put a full stop to all the rumours in her own style. Nick Jonas posted a pic of his lifting up weights in the gym. We can see his huge biceps. Priyanka Chopra commented, "Damn! I just died in your arms…." This should end all speculation. 
The Jonas Brothers Family Roast is now on Netflix. This could be the reason why Priyanka dropped both her surnames from her bio. Maybe, she has a fun cameo on the show.