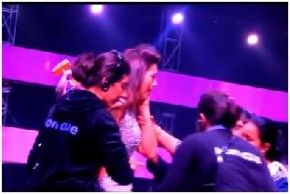 Model and actor Gauhar Khan was slapped by an audience member while she was hosting 'India's Raw Star', a music reality show, at Film City. The accused, identified as Mohammed Akil Mallick (24), slapped and touched her inappropriately during the break of the show and said that, "being a Muslim woman, she should not have worn such a short dress.
According to reports, there were 250 bouncers and 2,500 people present at the venue. Yet, the man managed to break the security cordon and get into an argument with Khan.
The youth was detained on Saturday night for allegedly slapping and molesting a film and television actress.  He was booked on the charge of molestation.
When we asked Mr Ramesh Iyer, CEO & Vice President, TOPSGRUP,  he said
"I find it extremely disconcerting that there have been a number of events of late where members of the public are able to harm high profile celebrities when they are under the protection of professional security teams. What has recently happened to Gauahar Khan is extremely distressing, the fact someone was allowed close enough to assault her shows a huge level of incompetence from the security staff. This situation could have been avoided very easily, as a professional security team, it is their duty to review any threats that could take place and therefore be prepared for an event such as this, the man who slapped Gaauhar Khan should never have been given the opportunity to even speak to her, let alone physically harm her. By ensuring she has security personnel with her at all times and the public is kept at a safe distance from Gauahar; there is no doubt in my mind that this situation would never have happened.
If a celebrity is attacked or harmed during an events, the responsibility lies solely with the security team. With this in mind, security has to be tightened at these events, it is simply unacceptable for these situations to continue to take place. If the security team is not up to the responsibility of protecting a high profile figure, then they should allow someone capable to take over, risking someone's life due to incompetence is simply not good enough.
When protecting the Bigg Boss house we ensure that every security measure is implemented, we are constantly on the lookout for any possible incidents that could occur and put the necessary security in place. Proactivity is key. It can be challenging guarding such a high profile event, however if I wasn't confident that we could keep the celebrities safe, then we wouldn't take the job and more importantly the responsibility on in the first place."
Meanwhile, twitteratti came in support of the actress.
Actor Farhan Akthar
"Dearest natural selection, please help us out-evolve morons like the one who slapped Gauhar Khan. Sincerely "
Tejas Barot
Feeling so sad that #GauharSlapped by some coward from the show audience, What security guards were doing !? What about arrangements !?
Rohit
Gauhar Khan short dresses are UnIslamic.But Emraan Hashmi kissing Hindu actresses is completely Islamic. #GauharSlapped
Kunal Kapoor
Gauhar Khan slapped by a fan on stage at India's Raw Star finale.. Unacceptable and shameful.. #GauharKhan #gauharslapped #shame