India hockey team wins Women's FIH Nations Cup 2022:
The Indian women's Hockey team led by Captain Savita Punia beat Spain 1-0 in the final to win the inaugural FIH Nations Cup played at Valencia, Spain. The winning goal was scored by Gurjit Kaur of India. The win sealed India's berth in the 2023-24 Pro League.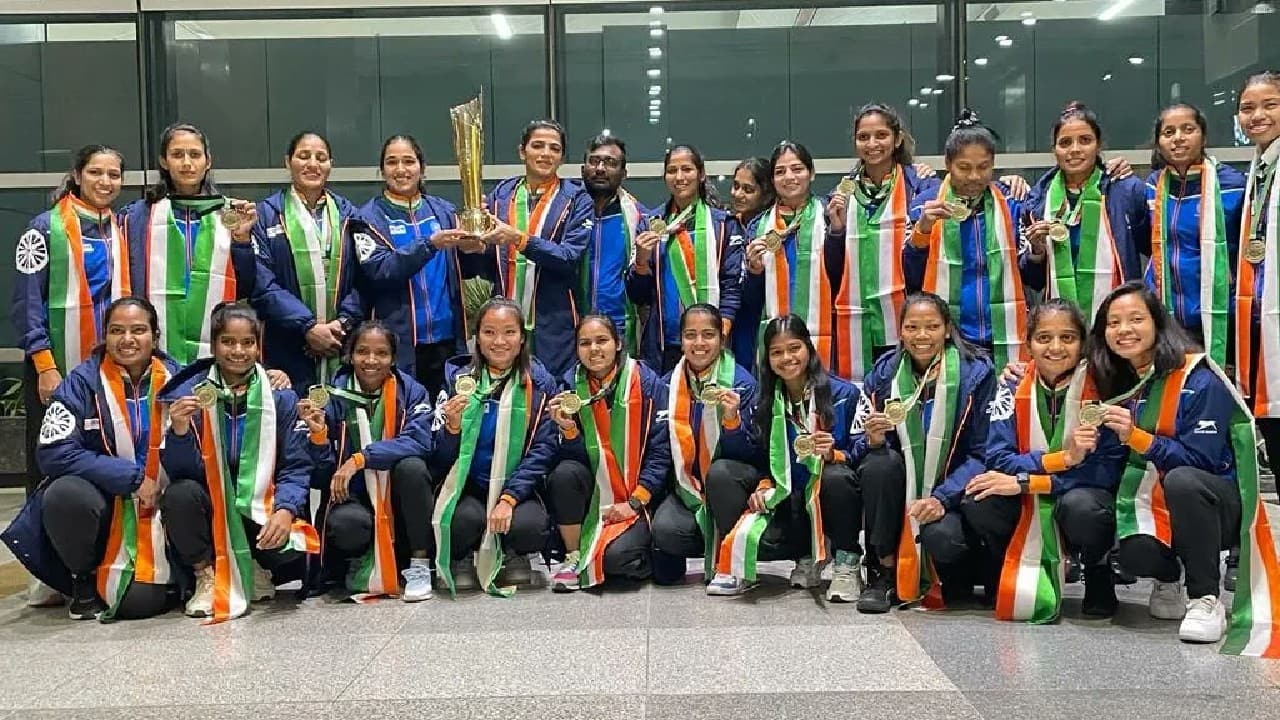 Hockey India has announced a cash prize of Rs 2 lakh for every member of the squad and Rs 1 lakh each for all the support staff. India ended the tournament with a perfect record of five wins in five matches. The Indian team beat Chile (3-1), Japan (2-1), and South Africa (2-0) in the group stage before a thrilling 2-1 win over Ireland in the penalty shootout in the semifinal.
Hockey India shared a video of the team's celebrations after winning the trophy and collecting their gold medals.
View this post on Instagram
Social media is full of congratulatory messages after India won the exciting tournament and qualified for the Pro League. 
Congratulations to the Indian Women's Hockey Team for winning Gold in the FIH Hockey Nations Cup 2022 and for qualifying in the FIH Hockey Pro League 2023-24.

We are proud #TeamBlue 💙#IndiaKaGame #HockeyIndia #FIHNationsCup @CMO_Odisha @sports_odisha @IndiaSports @Media_SAI pic.twitter.com/sku6mMjw6t

— Hockey India (@TheHockeyIndia) December 17, 2022
Here comes the real proud moment

Indian Women's Hockey Team defeated Spain 1-0 in the Final to win the FIH Women's Nations Cup 2022 in Valencia, Spain yesterday.

So proud of our Women's Hockey Team!!! 🇮🇳🇮🇳🇮🇳 pic.twitter.com/X2cFaqvv9L

— WhySoSerious 👨‍🎤 (@Mohit_2207) December 20, 2022
#FIFAWorldCup#HockeyIndia
The Indian Women's Hockey team returned to India earlier this morning and got a warm welcome in delhi.

The Nation is proud of you all! pic.twitter.com/phZBKIziVk

— Satyendra (@SatyaTr79303560) December 19, 2022
Here comes the real proud moment

Indian Women's Hockey Team defeated Spain 1-0 in the Final to win the FIH Women's Nations Cup 2022 in Valencia, Spain yesterday.

So proud of our Women's Hockey Team!!! 🇮🇳🇮🇳🇮🇳 pic.twitter.com/X2cFaqvv9L

— WhySoSerious 👨‍🎤 (@Mohit_2207) December 20, 2022