Model faces legal troubles for publicly breastfeeding on magazine cover!
As much as we as women applaud the breastfeeding magazine cover the latest update has us all angered. A Kerala advocate Vinod Mathew Wilson has filed a case against Malayalam magazine Grihalakshmi. The case is for featuring writer and actress Gilu Joseph breastfeeding a child on the cover of its latest edition. In fact reports say the advocate alleges that this picture is 'lascivious' in nature, and apparently it also "degrades the dignity of womanhood." This is plain sad because breasts are meant to nurture than being a sex symbol.
Earlier last week, Grihalakshmi(a Malayalam magazine ) has challenged patriarchy by featuring model, poet, writer and air hostess Gilu Joseph breastfeeding a baby on the cover.Breastfeeding is natural but in India its a taboo and is considered disgracefully when done in public spaces.
But this magazine has challenged all these social norms by featuring such an amazing magazine cover.
The text below the picture reads: "Mothers tell Kerala, 'please don't stare, we need to breastfeed'". People have applauded the actress and the publication for this choice of cover and have even called it a historic first.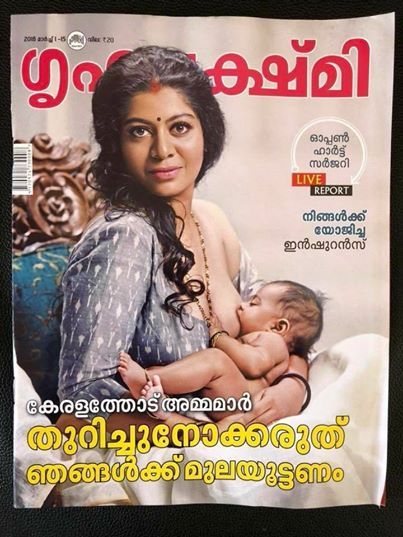 Joseph talked to Indian Express Malyalam about this project. She shared her opinion about nudity and the fears she had before committing to this project. She even added that her family did not agree and was quite unhappy with her decision. But she respects and understands their viewpoint as according to her breastfeeding is a privilege that only a mother has and there is nothing wrong with it. It is a very natural phenomenon and every mother needs to feed her baby. Isn't it a beautiful thing, friends? Why do you think it is wrong? Which god will be angry if you feed your child", said she.
The cover has received a mix response on social media. Users have criticized the magazine for presenting the model in such an 'exposed manner'. Many people wrote comments like, it is a cheap publicity stunt, seducing photo of an Indian woman and mothers should "cover themselves up. But a majority have praised the magazine for normalizing and de-stigmatizing the act of breastfeeding.
People have even criticized the way she has been styled for the cover; but she can be seen wearing a line of sindoor and a mangalsutra, both traditional signs of marriage which when forced upon women is considered patriarchal. However, Joseph says that the photograph is a message to wives and mothers in India, to tell them that they can choose to feed their children without the fear of what people will say or do.