Check out what Ranveer Singh posted on Kartik Aaryan and Sara Ali Khan's pictures:
If you are following Sara Ali Khan and Kartik Aaryan's story from the beginning, you must be aware that Ranveer Singh has also played an important part in this. Well, if not, then here it is for you.
It started when Sara declared her admiration for Kartik during a media interaction. Soon after Sara's feelings for Kartik were all in the buzz. Not to shy away, she continued to express her liking for the actor. Kartik too began giving her compliments. And in no time fans started addressing them as a couple.
Then at an event, Ranveer played cupid to the two and tried to make them interact with each other. That video went viral quickly.
Recently, Sara and Kartik also came on board for Imtiaz Ali's next film. So when Sara and Kartik shared some pictures after wrapping up the shoot of their next film together and wrote beautiful words for each other, Ranveer dropped a hilarious comment on it, which can't be missed.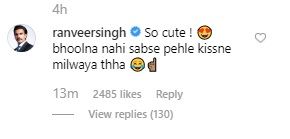 The actor wrote: "So cute ! bhoolna nahi sabse pehle kissne milwaya thha."
In her detailed post, Sara expressed her gratitude towards Imtiaz Ali but it was her words for Kartik that caught our attraction. Sara wrote, "Thank you @kartikaaryan for instantly making me comfortable with you, for selflessly giving and for consistently looking out for me. From coffee's about you to chai's with you, I wish we could do it all over again I'm going to miss you more than you know and more than I can admit."
They look so cute together!