Shilpa Shetty's Reply Is Winning Hearts
Although Shilpa Shetty's love for her son Viaan can easily be seen on her Insta posts.  But people often take it in a wrong way. She was accused of showing off on her son's birthday.
A user commented on her post "Distributing the cheapest fruit available and broadcasting on Instagram. Sunday binge doesn't seem so simple. Stop this show off." This was a comment on her video, where she and her mother are serving food to people at an old age home in Mumbai on Viaan's birthday. Shilpa's family along with her mother hosted a small dinner in an old age home on her son's birthday.
However, Shilpa took this negative comment very calmly and gave a bang on reply. This was the response she gave: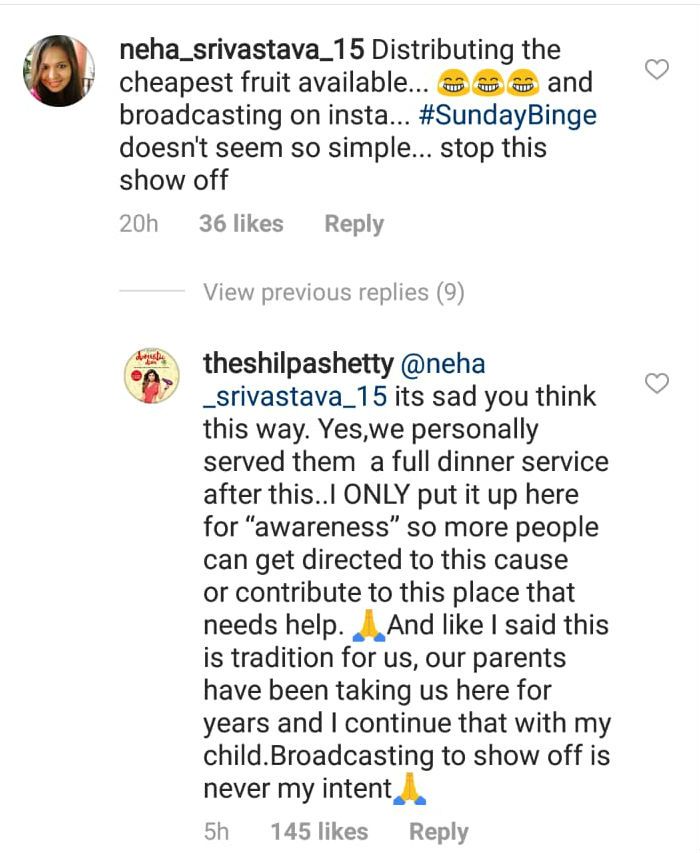 Shilpa's response to this accusation is winning everyone's heart on internet as she had clearly mentioned that she feels sad when people take things like this in a wrong way instead of learning something good. Her aim to post these videos and pictures were to spread love and kindness. It's a tradition that she is being following since her childhood and same thing she is doing with her child which is a good thing.
Check out some adorable pictures that Shilpa Shetty and Raj Kundra posted on their son's birthday.