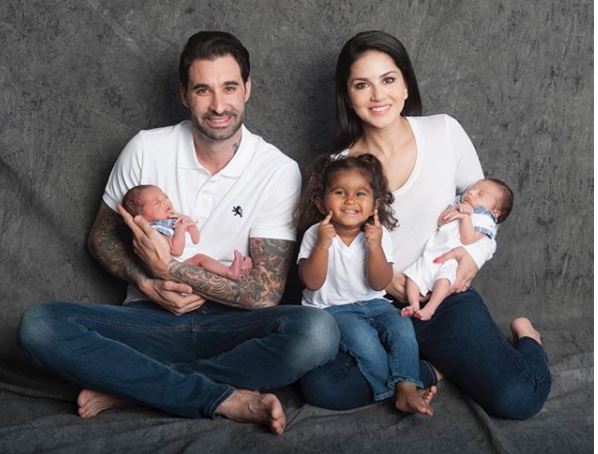 Sunny Leone surprised her fans by announcing the birth of her twin baby boys on social media. She posted a cute family picture with husband, daughter Nisha and two the twins. The baby boys look cute and too adorable in the picture. Nisha, whom the couple adopted in July 2017 from Latur, Maharashtra, looks happy and excited about her brothers' arrival in the photoShe has named the boys as Asher Singh Weber and Noah Singh Weber.
Sunny called it 'God's plan' in an Instagram post. "God's Plan!! June 21st, 2017 was the day @dirrty99 and I found out that we might possibly be having 3 children within a short amount of time. We planned and tried to have a family and after so many years, our family is now complete with Asher Singh Weber, Noah Singh Weber and Nisha Kaur Weber. Our boys were born a few weeks ago but were alive in our hearts and eyes for many years. God planned something so special for us and gave us a large family.We are both the proud parents of three beautiful children. Surprise everyone!," she wrote in the post.
Her husband also posted on Instagram and Wrote "Say Hello to Noah and Asher Weber!!! #family @sunnyleone @dirrty99 :)))). The next chapter of life!!! Karen, Nisha, Noah, Asher and Me!!!!! Proud!"
Sunny also revealed that Asher and Noah are their biological children as the couple had opted for surrogacy years ago.
We wish the two -happy parenting!