Netizens react on Surf Excels latest ad:
From last one-week Surf Excel's new Holi ad with the hashtag, #BoycottSurfExcel has been trending on social media. The advertisement features a bond between a Hindu girl and a Muslim Boy.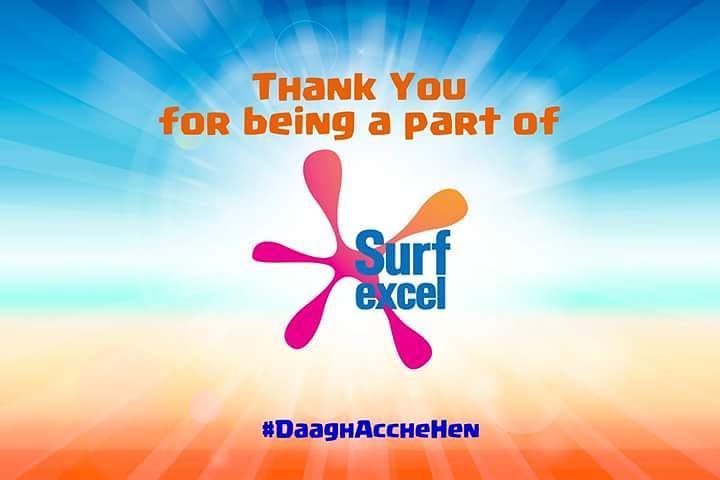 The ad shows a small girl riding a bicycle and asking all the kids in her neighborhood to throw color water balloons on her. As she rides her cycle through the lane, kids throw balloons on her and after all their balloon and color finishes she calls out her friend outside who turns out to be a Muslim boy wearing a white suit. She takes him on her cycle and drops him at the nearby mosque where he has to go and pray. At last, the ad finishes with the brand's popular tagline, "Daag achche hain".
Though the company tried to spread a good message through this ad but people on social media had mixed reactions to it. Some really appreciated Surf Excel for using such a nice idea while others criticized them for supporting Muslims. Some users also asked Surf Excel to make an ad on Muharram where a Muslim boy is shown protecting a Hindu girl to the temple while other said, "Surf Excel ad is humiliating Muslim girls to the core.
Check out the ad here:
Check out the people's comments here:
Ordered and refused SurfExcel… just to teach lesson to UniLever…. Shame on UniLever for promoting thier sale through Live Jihad pic.twitter.com/9CSEixHydz

— Gyanmurti Sharma (@SharmaGyanmurti) March 11, 2019
If they want peace then why they make this ad. They have no rights to disrespect any religions festival.#Shameless #SurfExcel

— Pawan Dubey (@pawandubey785) March 11, 2019
#BoycottSurfExcel One of the worst Ad ever by Surf Excel. It should be rolled back and @HUL_News should apologize for hurting sentiment of our religion.#BoycottSurfExcel

— Ramesh Kumar Saini (@sainiramesh515) March 11, 2019
Well done #SurfExcel for promoting religious harmony in these times! Great ad too.
Ignore the haters. https://t.co/TnjUUAr8Tz

— Konkona Sensharma (@konkonas) March 10, 2019
He who objects this ad by #SurfExcel is nothing but against the idea of India.
Hatsoff who created this beautuful film.#JaiHind https://t.co/YysT5d3W13

— Sanjay Nirupam (@sanjaynirupam) March 10, 2019
I'm sad to say but Hindu culture & values are being targeted in a deceiving manner simply for cheap publicity. I undoubtedly condemn abusive & hateful criticism by some people. But that doesn't mean, we remain silent in the name of secularism.

— Lakshya Sharma (@lak__sharma) March 11, 2019
In school days,we had a Muslim teacher,she used to cook food for us (Hindu students) on holi,we used to go to her house and play holi with all her family members.
The same during Shab-E-Barat, we used to light candles and serve food to children at her house.#WellDoneSurfExcel

— tilak purkayastha (@tilak2010) March 10, 2019
"These times"???? Damn BONG Women like you who can ONLY RANT about how much LIBERAL, Feminist and English Proficient they are!!!
But actually they have no substance and will never fight against Mamta to improve Bengal first!!!! Leave aside Country and it's issues!!!

— Abhishek (@SingingYak) March 11, 2019
It's ultimately a marketing strategy. It's not about values. Doesn't matter whether the ad was good or bad. Just watch, if they feel their market share dipping, they will drop the ad like a hot potato.

— shankar.subramanya🇮🇳 (@shankar_subr) March 10, 2019
Why not muslim girl hindu boys for temple was not taking in ad

— Kundan Singh (@kundan1991308) March 11, 2019
— #notApidi (@Iamrajput4) March 10, 2019