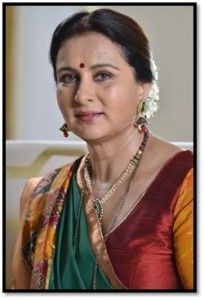 Mother's Day is a special day for everyone alike. So we got our favourite telly stars to discuss their Mother's Day plans, and what this special day means to them:
Poonam Dhillion in Ek Nayi Pehchaan: Every year my kids surprise me with cute greeting cards and flowers. It's the day when I get pampered a lot and they try their best to make this day very special for me. This day is special to each mother as her kids shower their enormous love on them which is priceless. It's really touching as they take out time from their busy lives just to make a special gift for you. For last 2years my son has shown his artistic side and gifted me beautiful paintings which I have framed in my house. It's really valuable for me and I will cherish it forever.
Krystal D'Souza in Ek Nayi Pehchaan: For me every day is mother's day. Just how on children's day our mothers pamper us, we should do the same to them on Mother's day. It's just to remind her how much we love her for all her sacrifices and care. I celebrate this day by taking my mother for shopping, spa and spending quality time with her. We both recently went out and it was like an advance mother's day celebration. This year if I get an off from my shooting I am planning to take my mother somewhere out of town and spend some special time with her. Also, I will take my mother for shopping and give her the freedom to buy whatever she loves.
Karan Sharma in Ek Nayi Pehchaan: Mother's Day is the day when I remind my mother how much I love her and that she is the most important person of my life. Most of the time I am out of my home, so I call my mother to wish her. This year also I am busy with shoot in Mumbai and she is in Dehradun. This year I am planning to bring her to Mumbai and show her how I live and work.
Faisal Khan in Bharat Ka Veer Putra – Maharana Pratap: My mom is my life. I am nobody without her, she is my soul. Even now she feeds me and does not sleep till I am awake. I can't live without her, even for a moment, she is my first God.
Jannat Zubair Rahmani in Bharat Ka Veer Putra – Maharana Pratap: I love my mother's multi-tasking quality as she helps me with my studies and also handles the entire household at the same time. She makes excellent pizzas for me. I am grateful to her as she always guides and advices me to choose the right path and to make judicious decisions in life.
Roshani Walia in Bharat Ka Veer Putra Maharana Pratap: I have never hidden anything from my mom. We have been like best of friends and there has been a strong sense of love and attachment between us. But yes, she is a good cook and is very angelic in nature. One very striking quality of her is she is very caring and loving. I have learnt from her never ever to give up. I admire her for being an excellent mentor and for her optimistic outlook towards life.
Rajshree Thakur in Bharat Ka Veer Putra – Maharana Pratap: My mother is the emblem of motivation, inspiration, beauty, patience and love. She completes my world; I am totally incomplete without her. Often we leave our appreciation unspoken, but today I would like to wish a Happy Mother's Day to the most wonderful mom.
Anup Soni- Host of Crime Patrol: This mother's Day I would like to give a message to my mother, who has always supported me in whatever I wanted to do. I feel proud to be her son and give her all the credit for what I am today. I always try to keep her happy every day in my life. Happy mother's day Mummy and I love you.
Gaurav Khanna as senior inspector Kevin in CID: For me it is the most important day in my life as I am very close to my mother. There is nothing bigger than a mother for a child. No one can take a mother's place. So on this day I would like to tell my mom that I love her and whatever I am today is because of her hardwork and blessings. Love you Mom