Checkout how the Momo challenge is threatening people and it steals information:
A 12-year-old girl in Argentina committed suicide and it is being linked to the viral momo challenge.
Momo challenge:
It is a suicide game on Whatsapp which has gone viral. In the challenge, the sculpture's picture is used to send challenges to teenagers. There are many updates as to how the game is threatening lives same as the Blue Whale challenge before.
Here is what experts say:
Cyber experts say there is no such game called Momo challenge and that only a picture is being used to steal people's personal information. "Momo is neither a challenge nor a game. It's simply a hoax that should not be given any importance because that can lead to morbid curiosity. I personally investigated the three numbers from Japan, Colombia and Mexico and all three numbers are inactive", cyber expert Ritesh Bhatia said.
About the challenge:
Bhatia explained, "Momo is nothing but a sculpture of "Mother bird" made by a Japanese artist and displayed in Tokyo's horror art Vanilla Gallery." He added saying, "Some miscreants made wrong use of this image and have been trying to scare a few people. Do not entertain any such miscreant. One should immediately block and report people who are trying to threaten you,"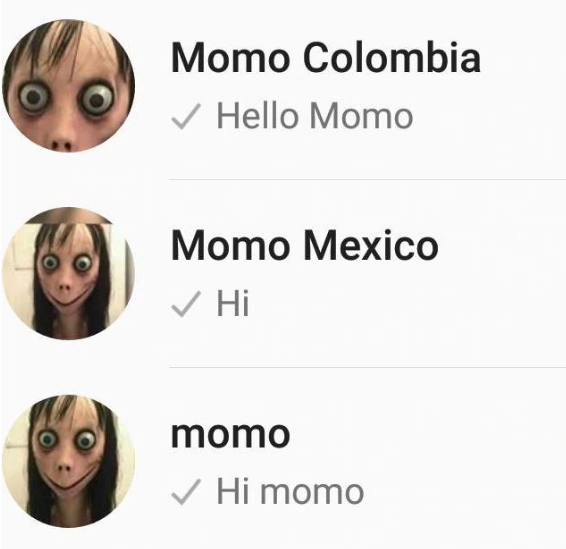 Even Mexico police had earlier come up with a warning saying avoid talking to strangers and that the game is to extract one's personal information.
#UIDI #FGETabasco #Cibernetica #Tabasco #Villahermosa #PolicíaCibernéticaTabasco #SegurosAlNavegar #PrevencionDelitosCibernéticos #MOMO Advertencia por nuevo reto en niños y jóvenes, evita hablar con desconocidos, buscan obtener información que puede ser utilizada en tu contra. pic.twitter.com/FywFhZFyyH

— UIDI FGE Tabasco (@UIDIFGETabasco) July 12, 2018
Not only this, even Spain's police said that the challenge is a hoax.
⚠️Si esperas que #Momo salga de tu #smartphone como si de la peor "peli" de terror se tratase… Buuuu😱😱 ¡No te lo creas!
Olvídate de virales absurdos que se ponen de moda en @WhatsApp o #RRSS#PasaDeChorradas#SeListohttps://t.co/Ubh57LRMTy pic.twitter.com/ObEzcnLvTv

— Policía Nacional (@policia) July 18, 2018
Bizarre challenges are going viral on social media and the latest one is Kiki challenge worldwide. Earlier the Blue Whale challenge was also threatening people. It was conducted through social media and was a game that lasted for a total of 50 days giving different tasks to the player.