Checkout how the picture of Anushka Sharma starring husband Virat Kohli turned into memes:
Mahendra Singh Dhoni celebrated his 37th birthday on 7th July with teammates and family on India's tour of England in Bristol. The former Indian captain was seen cutting his birthday cake with wife Sakshi, daughter Ziva and other players. The video of him cutting the cake was shared by BCCI on Twitter. Social media was filled with wishes and pictures of cake-laden Dhoni's face with other teammates. Not only did Dhoni's birthday celebration grab everybody's attention but it was the picture of Anushka Sharma and  Virat Kohli that were in talks all over.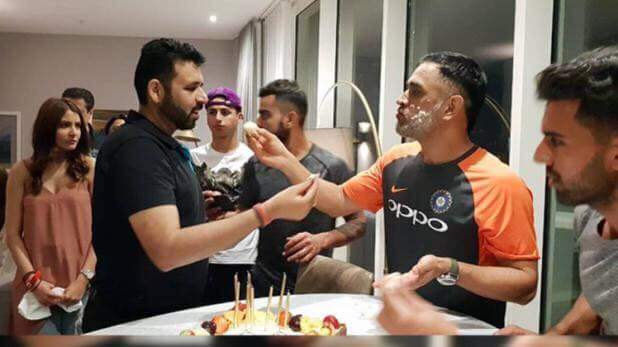 In the picture the couple is standing with other team members while Anushka is seen staring angrily at Virat. Well, this Virushka's click has got everyone talking. People started commenting on the picture to find out what's going on. While some thought Anushka was annoyed by the mess others started captioning it turning it into a meme.
Anushka To Virat: Bade aaye Mahi Bhai Mahi Bhai karne wale.Dekho tumse pehle woh kisi aur ko Cake khila rhe hai😂😂
Virat -🙄#Virushka #MahiBhai pic.twitter.com/y6xvDPz34k

— Viratian (@Viratisbest) July 8, 2018
Anushka : virat dhoni ko bolo na muje bhi cake khilaye😣 pic.twitter.com/UwkH5Axfax

— ANKIT YADAV (@Yadav407413) July 7, 2018
When you are on dieting but he kept asking by singing 'baby ko cake pasand hai' pic.twitter.com/dfFv1xsBcv

— Shivam Aks (@AksShivam) July 7, 2018
Perhaps Virat realised that Anushka was tryna speak out "Don't throw garbage on the road & don't waste food". pic.twitter.com/FLGJx0Io6x

— Bhupesh Bansal (@itsbhupesh) July 7, 2018
Virat kohli was about to smash cake on Dhoni's face, Then Anushka saw Virat angrily and Virat thought about Anuska's hygiene.. pic.twitter.com/i7N60aqqx2

— Sarcastic Dude🇮🇳 (@Musthaizahmed) July 7, 2018
When you forget your Bae's birthday but

Very well remember your bestfriend's birthday 🤐🤐 pic.twitter.com/CQmKK8HMQ1

— PIYUSH DWIVEDI (@FoodiePandit) July 7, 2018
Post marriage one will find alot of such pictures with expressions..

Bechara V-Rat 🐁

— SYELDE (@RKYELDE) July 8, 2018
Agar Tumhare Dost Ka Birthday Apne Ghar Pe Manane Pe Biwi Rooth Jaye Toh Vo Tumhe DostBin Samjhti Hain. pic.twitter.com/hqrJsEDlO0

— PUNsukh Waangdu ™® (@Pankysm) July 7, 2018