This wedding season, go green like this couple from Bhopal
Go big or go home is the motto of every Indian family when it comes to getting married. Extensive menu, fresh flower decorations, and appealing décor arrangements are how we expect every Indian wedding ceremony to be. While money spent on weddings is worth every penny for people who want this occasion to be remembered by everyone for a lifetime, the aftermath of it should not be ignored.
A couple from Bhopal made a considerate decision by trying to reduce carbon footprints and sent eco-friendly invites to their guests. Pranshu and his brother Prateek began planning Pranshu's wedding by deciding to generate less food waste during their wedding and later decided to do something about the paper wedding cards too.
They started by sending E-invites, respectfully mentioning that their main agenda was to save paper. Invited family members and friends were asked to RSVP.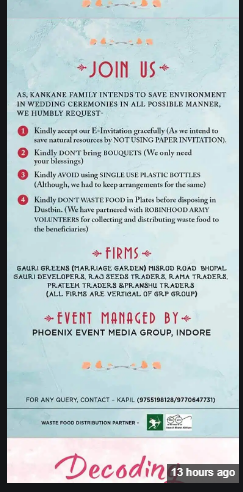 While the idea was noble, the groom's mother was not convinced and wanted them to go and invite each family personally. Keeping their mother's wishes in mind, the brothers decided for a "green invite", which is a card printed on a potted indoor plant that can easily survive for 3-4 years.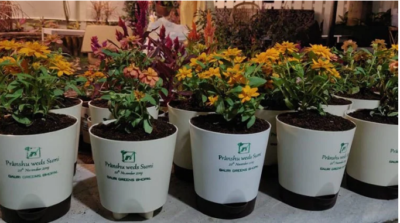 This idea was well-received by all their guests and some of them were more than happy to take their pick from the variety of plants the brothers had arranged for. They also took 10-15 minutes with each guest to explain how they can maintain the plant.
This effort was cost-effective for them as each invite's expense was similar to the paper one. Apart from this, the guests were also asked to refrain from carrying a bouquet and also not to carry any single-use plastic item with them.
Such efforts made by people can help in saving the environment. This will not only make their wedding eco-friendly but will also inspire many couples to do the same.