Harmanpreet Kaur becomes first Indian women to score a T20I century, check out how people react:
Recently Indian Skipper Harmanpreet Kaur created a history as she became the first Indian batswoman to score a T20I century and only the eighth overall. During India's inaugural women's T20 World Cup match in Guyana against New Zealand, the top batswoman scored a century that fascinated not the only audience in the stadium but people watching the game at home as well. With amazing sixes, the captain scored 103 on 51 balls with an ease that left everyone enthralled.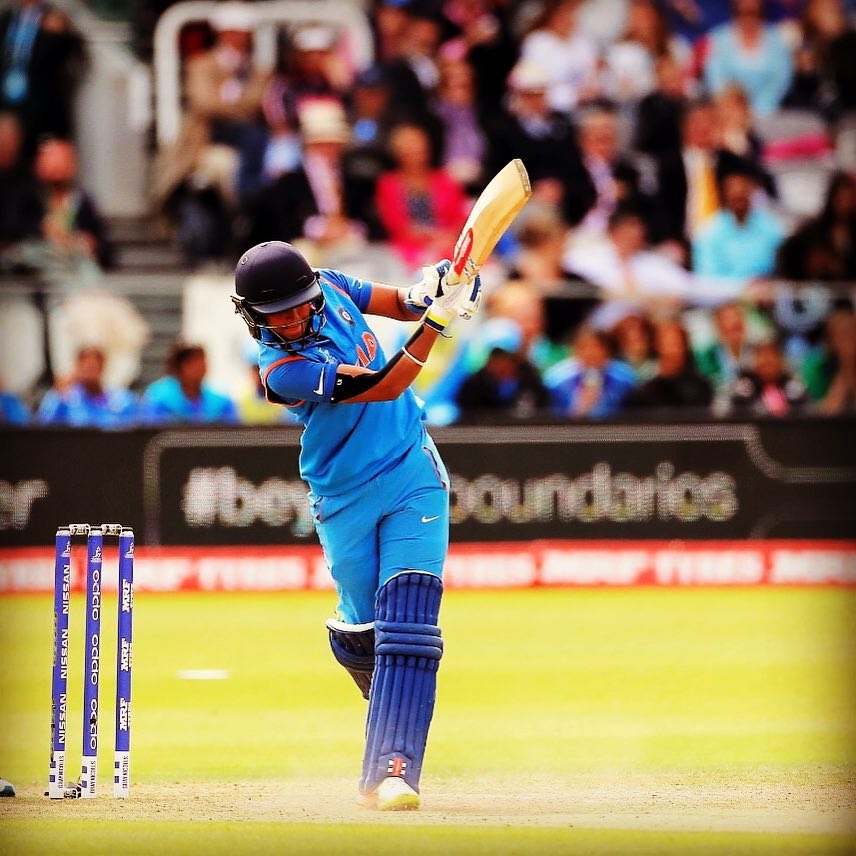 The extraordinary batting by the 25-year-old player impressed everyone from veteran cricketers to fans, everyone started cheering for her. Three sixes took her from 79 to 97 also making her tally of sixes to eight.
Harmanpreet Kaur's batting saw India's 34 win over New Zealand in the opening game of ICC Women's World T20 and netizens could not stop applauding her:
Check out the reactions of the people below:
Whatever BCCI are paying Harmanpreet Kaur, the ICC should pay twenty times that. She's slapping women's cricket into people's houses. #harmonster

— Jarrod Kimber (@ajarrodkimber) November 9, 2018
No team hit 8 sixes in the entire Women's @WorldT20 tournament in 2016. Harmanpreet Kaur alone hit 8 maximums today. Shows how much women's cricket has evolved in couple of years. Amazing start to the event. #WT20 👏👏

— Mazher Arshad (@MazherArshad) November 9, 2018
T 2990 – Congratulations India Women Cricket T20 team .. victory over NZ and Century by Harmanpreet Kaur, first Women to score 100 runs in T20 pic.twitter.com/L7iG9h0Yy0

— Amitabh Bachchan (@SrBachchan) November 9, 2018
What a sensational knock @ImHarmanpreet fabulous .. such a joy watching you score a ton and see those monstrous sixes … keep going #HarmanpreetKaur

— Viswanth Atluri (@viswanth) November 10, 2018
See the power of woman! Harmanpreet Kaur scored a magnificent century in the very first game of the marquee tournament to become the first ever Indian woman to score a century in T20Is. En-route her 51-ball 103, she belted 7 fours and 8 sixes. pic.twitter.com/qjgnPTCwQD

— Ullipayala Subbarayudu (@usrayudus) November 10, 2018
Wow @ImHarmanpreet wow what a insane hitter you are 🙏🏻👏🏼👏🏼👏🏼🔥🔥🔥 #INDWvNZW #HarmanpreetKaur

— Karan Patel (@patelkaran952) November 9, 2018
How Others see Harmanpreet
How Indians see Harmanpreet #INDvNZ pic.twitter.com/KVL54oPcjR

— ʀ ɛ ɮ ɛ ʟ (@Gadhvilaxman) November 9, 2018
Whether it's a Indian men team captain or Indian women team captain 💯 is easy for us #Harmanpreetkaur

— Tamilselvan (@Tamilselvanraja) November 9, 2018
Captain of women and leading from the front in #IndVsNZ
Congratulations #HarmanpreetKaur for the century.
कर हर मैदान फतेह रे बंदियाँ😎 pic.twitter.com/MqWkA62zfE

— Abhishek Sharma (@Hellmate_abhi) November 9, 2018
Really it's a celebration time for us!#HarmanpreetKaur become the first Indian to score a #WT20 hundred in just 51 balls!
Sorry milord, "Aaj toh or bhi pathake forde hai hamme!" 😂😂😂
Congratulations @ImHarmanpreet & team India!#INDvNZ pic.twitter.com/RnbNnwKTZG

— Anit Ghosh 🇮🇳 (@Indianit07) November 9, 2018
What a great talent Harmanpreet Kaur is …!! Such amazing batting display !! More power to you girl !! #WorldT20 #HarmanpreetKaur

— Raya #AmiKKR (@iamraya1) November 9, 2018
Congrats.. U did a great job..
hats of u #HarmanpreetKaur @SGanguly99 @anilkumble1074 @sachin_rt @NSaina @virendersehwag @DravidFC @Jaggesh2 pic.twitter.com/8pJDFrPgL6

— Arunkumar Rodagi (@RodagiArunkumar) November 11, 2018