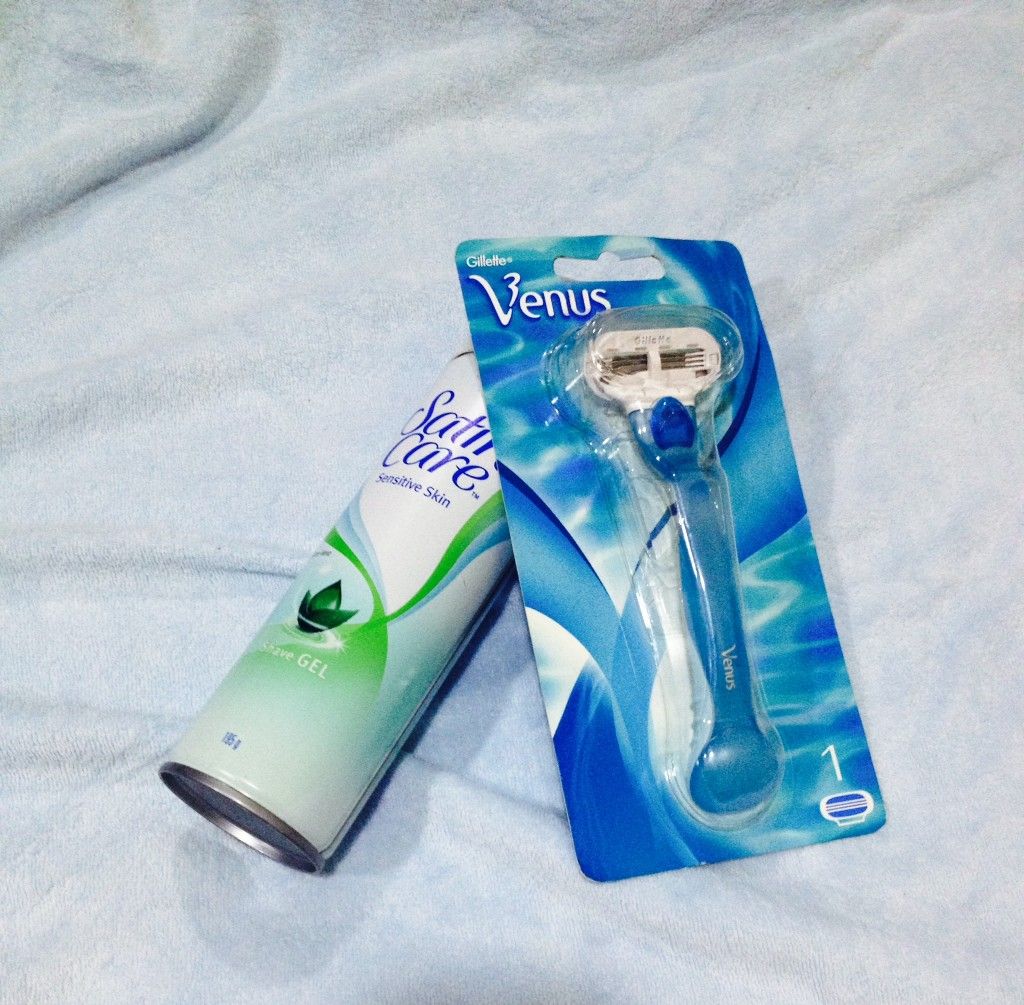 Over the years all women have the dilemma of waxing versus shaving. But when in hurry or (ahem!) the need to clear your privates a razor is the safe and quickest bet. I have over the years always used those disposable razors for women. When I chanced upon Gillette Venus Razor, I knew I had to try this. It is clearly superior and better than those disposable varieties we all have used some time or the other.
Price: INR 199
Claims: The first 3 bladed razor designed for Women.  The Venus Original razor features protective cushions surrounding 3 blades for a smooth, close shave in just one stroke.  3-blade cartridge gives an ultra close shave. Protective cushions for a nick-free shave. Interchangeable Razor Blade. Refill Cartridges. Shaving Compact for in-shower refill storage. Soft grip handle for no-slip control.
Packaging: The razor comes packed in a cardboard and plastic encasing and it's a beautiful blue Gillette Venus Razor.
How I use my Gillette Venus Razor for a perfect shave:
With this all new Gillette Venus Razor shaving is super easy as its moving head fits itself in all nooks and crannies when you use the razor. However for the best shave, take a quick warm water shower use a scrub to make ingrowns come out. Now rough dry yourself as razors work best on damp skin. Apply shaving gel (PS I love the Satin Care shaving gel). Then draw the razor towards you with minimal pressure.  Once you are done touch the area for any left hair. Shower and apply mosturiser and you are done!
Pros of using Gillette Venus Razor:
Using the Gillette Venus Razor is a quick and easy alternative to waxing.

At the price it is highly affordable.

The Gillette Venus Razor is superior to the disposable one time use razors. And the blades can

Gillette Venus Razor

be changed with refill cartridges. So, when you buy the Gillette Venus Razor you make an investment

The triple blade ensures that all hair are gone in one quick shave.

The pivoted head easily bends on curves and is very safe so there is no chance of nicks or cuts. The  Gillette Venus Razor also has a cushioning that ensures no cuts.

Long lasting, I have used mine for a few weeks about 5 odd times and its as good as new!

The Gillette Venus Razor is easily available. In fact the refillable- cartridges are also available easily.

Easy to carry on your trips and best for a quick shave.
Cons of Gillette Venus Razor:
The hair does seem a tad harder.

It doesn't not slow down hair growth.
Rating: 4.5/5, The Gillette Venus Razor is your best beat at shaving ladies!