Why Kangana is making women rethink #girlsdon'tfight
As a kid, I often heard of gender discrimination but never understood it, it seeps into your system like slow poison and you often never realize it as 'wrong'. I did not realize that this is discrimination like, to pick up a male employee over me because simply put I'm a female! And like most of you girls out there I have been judged, taunted, body shamed and eve-teased. And sadly, like most Indian women I have thought of silence is golden as the mantra for peace.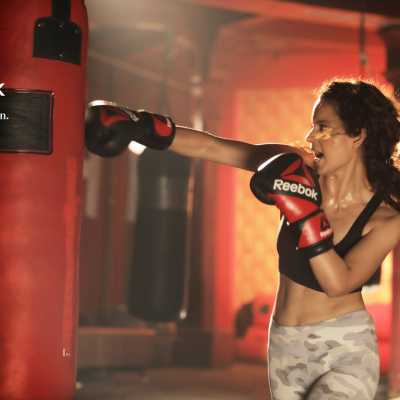 But Kangana with her all-new 'devil may care attitude' in the all new Reebok video, has a major life lesson for all the female clan out there. The female clan which accepts emotional trauma, in-laws, taunting, body shaming for being too thin or too fat, or for not fitting into a preconceived notion of the society and sadly they accept this with silence. Maybe silence and a pinch of salt but our conscious often niggles and asks till when?
And that is what Kangana has done. She has shown us, women, that how long would you look for others shoulders to fight? Till when you would accept everything without questioning? Till when will you pretend to be weaker than you are? Don't we all often hide behind our men if a fight starts? Well the all-new Reebok video featuring Kangana inspires us to fight back. (Watch below)
Fight back with the logic, ask questions. State if something is unfair and learn to fight back. Push ahead of your comfort zone much like Kangana does in the beautiful Reebok video. Looking at the current scenario where men look to 'pick up' women outside Hauz Khas village to rape, pushing beyond your boundaries is a much like the girl who live tweeted the incident to make it news. Or else women shall always be pushed back. Start asking questions, so get up and start fighting back after all #girlsdon'tfight.
Kangana has broken the stereotype most actresses in Bollywood are comfortable in. She is no longer just an eye-candy pretty woman, look at the video, she is a dynamic force who has risen against the tirade of bullying. When she can why can't we?
Here's sending you happy vibes, after all, #girlsdon'tfight! Share your story on social media with #fittofight" or write to us at [email protected]
Have you ever stood up against traditional, cultural norms or teasing? Tell us in the comment section below: