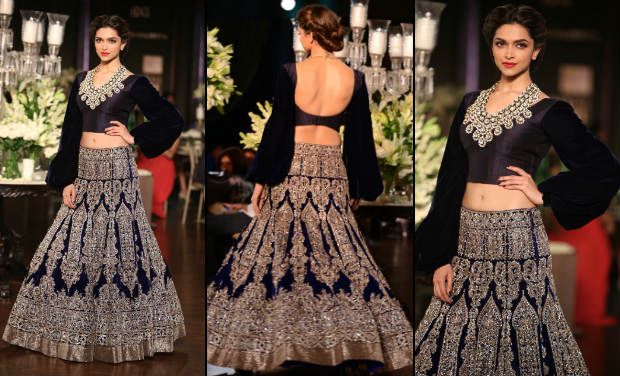 Learn about the colours a dusky women can rock 
A very famous fashion designer once said -"Style is, and always has been, about self-expression and I don't recommend a colour chart that dictates how you should dress based on your skin tone. If there is a colour you like, go and wear it with confidence!"
Well, we completely agree with the expert! We are all god gifted with unique skin colour- whether bed sheet pale or colour of strong coffee!
Out of the infinite colours, there are some perfect hues which just compliment our skin tone. It is commonly said if you are fair any colour will go but dusky woman has limited choices. A complete No- No! There are endless colours that dusky women can choose and enhance their personality. Check out our list of colours that dusky woman should choose to nail the look. We pick the sensational Deepika Padukone help us decode these looks:
Deepika Padukone

Powerful Green
Rather than darker shades of green go for teal green, sea green or emerald green. This amazingly versatile shade can be worn with an ease. Whether its dress, kurtis, tees or saree they're sure to make you stand out in an understated way. Striking yet sophisticated, your style in green will be grunge and vintage all in one.
Smiling Yellow
Light and softer shades of yellow suits best for dusky skin women. Yellow colour is very graceful and appears like a jewel on you. Try wearing yellow formal shirt with black trousers or yellow saree for an evening function.
Deepika Padukone in saree

Sensational Orange
Don't be afraid of testing the "coloured water" by layering your look.  For winters, wear an orange jacket with denims. Orange evening gown will be an added touch of style. If you find that one colour is overwhelming, wear it in small quantities. You can choose a skirt or scarf and match it with orange lip colour and blush. Keep playing with the colours until you find what works for you and Don't miss to try Deepika Padukone hair styles those can make your look even more classy.
Ravishing Cobalt Blue
This is a colour that has been around since ages and is just made for dusky women. Every fashion blogger would recommend wearing cobalt blue colour as they bond well with other colours. It works well over blacks and whites. A cobalt blue dress or blazer will just make you look pleasantly attractive!
Deepika rocks a saree

Blingy Beige
The English colour does not fire up fair complexion but looks striking on dusky women. Go for beige shirts or pants or long jacket. Beige contrasts well with black and is considered best for formals. Overcoat in beige will make you look significantly brighter and be assured of your entry into fall fashion hall of fame.
Girly Pink
Irrespective of your skin tone, colour and age- this colour is a sure shot hit for every women. From skirt to saree, shorts to jackets you can choose any outfit but in lighter and pastel shade of pink. We promise wearing colour is as easy as throwing on a pastel sweater or a baby pink coat.
Being dusky is beautiful in its own way. Remember many dusky beauties are ruling the fashion and glamour industry. One such example is Sonam Kapoor and her amazing dressing style. Follow your head and heart and try various colours.
By Yogita Aggarwal from Let Us Publish. Head to her blog here to discover more fun updates!