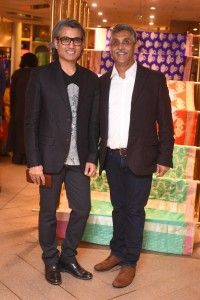 When the traditionally beautiful Ekaya ties up with young colorful quirky Play Clan. What do you get? A collection so pretty and perfect that you want them all!
We went to Ekaya's special preview, the unveiling of this beautiful collection and we were mesmerized. The prints had the quirk you think of with Play Clan but it had the aesthetic appeal you will want with Ekaya's sombre benarasi.
It's truly a collaboration made in heaven with its beauty and heart in the right place. Ladies get ready to spend some moolah! 
As the director of Ekaya, Bharat Shah says, " the collection is aimed at the younger generation to come and understand how the love for benarasi prints generates but still get a statement piece." It breaks the stereotypical image we all have of someone who would wear a benarasi saree.
The collection is all about bright shades, from fuchsia to electric green the collection infuses liveliness with the colours. But the prints aptly titled Nritya are a delight. The small figurines of dances performing look spellbinding.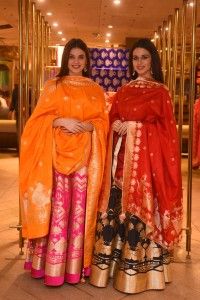 Agrees Himanshu Dogra co-founder of Play Clan "This collection took patience to develop and unlike printing, embroidery takes it own time to develop. A saree takes a whooping 45 days to make. So we at Play Clan faced the issue that every print you design might look perfect on paper but can stretch out once printed on a saree." The designing by Plan Clan makes the benarasi saree look chic, young, prettier.
Play Clan X Ekaya is surely on our lust lists!