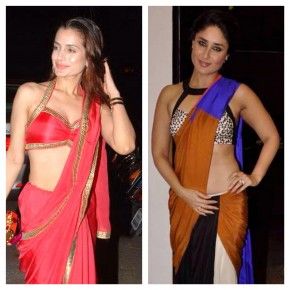 A sari or saree is a versatile garment you can dress it up for weddings and dress it down for a causal date. The sari is often called the six yards of elegance and every Indian woman (and girl) can relate to the beauty a sari lends to a woman's look.
But of late celebs (and wanabe starlets) have been seeing wearing the saree in a grotesque vulgar form. Rakhi Sawant, Ameesha Patel, and recently Kareena Kapoor have been caught wearing the saree in an inappropriate style.
Ultra-low waist: You might have the perfect washboard abs but a saree is all about grace. Low waist till the navel is ok but anything beyond that marks vulgar territory. Also a saree is supposed to make you look curvaceous. Still want to show your flat abs? Buy a sheer saree in net or georgette.
The right blouse: We can go on and on about how the blouse must be. But remember a blouse must accentuate your look not take away from it. Keep the following things in mind:
The fit of a blouse is a must; remember what happened to Aishwarya Rai Bachchan when her blouse was too short? The right fit will eliminate any back fat and make you look pretty. Also keep in mind that overly tight blouses are more prone to accidents like hooks opening or worse breaking.
Cleavage show in blouses is of late getting worse. A bikini inspired blouse might be ok but excessive cleavage popping out will give you a vulgar look. Keep it moderate and insure no pop outs happen.
Confidence is a must to carry out risqué designs. A backless blouse might look pretty but you need the confidence to carry it. A blouse may be a wee tight (happens to us often!) But confidence can make the whole thing work.
Embellishments on saree: Sequins, fur, lace, might be in vogue but on saree the effect can be disastrous. Keep them simple. A smattering of sequins is fine but a saree made of embellishments is a bad idea! Try keeping your saree as authentic and traditional as possible. Brocade, zari, bandhini look prettier than sequins and crocheted roses!
Right drape: The drape of a saree can decide how you will look for the evening, a sober drape can make you look pretty, on the other hand, a tucked pallu can give it a formal vibe. But be sure your saree is equal at bottom and all the folds and pleats are well made.
Pallu: The drape and length of the pallu have everything to do with that vulgar vibe! See how a overly thin pallu spoils and takes Kareena Kapoor Khan to the vulgar territory. Ameesha too looks uncomfortable handling her pallu. Always use safety pins to tuck your pallu or be prepared for embarrassing situations!
We believe many a B'town beauties do carry sarees well like Deepika Padukone whose thin frame makes bikinis also work! Vidya Balan might look good in hers but her style of late has become matronly.
How do you tie your saree? Do tell us!